Review: Soho Cinders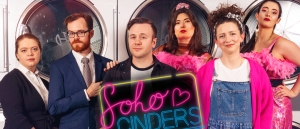 Reviewed by Talia Carlisle
The set of Soho Cinders is a simple train station in London, but the story, design and performances are far from simple.
A saucy queer rewrite of Cinderella, Soho Cinders tells us the story of Robbie (Chris McMillan), who's caught between sugar daddy Lord Bellingham (Stanford Reynolds) and London Mayoral Candidate James Prince (Michael Stebbings). Along the way, we meet other characters reminiscent of the original story – Clodagh (Ellie Stewart) and Dana (India Loveday) sticking out to me as superstars of the show.
The show shines with vibrancy, with gorgeous costumes, immaculate brightly-coloured eyeshadow and a lot of life and spirit. Both McMillan and Stebbings had great chemistry and aww moments with their onstage bffs/duets partners (Robbie with bestie Velcro (Aoife Walsh), James and fiancé Marilyn (Abigail Helsby)).
My favourite song, "So Over Men" really got the audience pumping, and in general the ensemble was very versatile with excellent quick costume changes! The booth singers were very worth mentioning – beautiful harmonies with the beautiful music all across the show, and the live band added another fabulous element to the piece – the keyboardist (Shawn Condon) added some beautiful twinkles when magic was needed and guitarist Ed Blunden confidently maneuvered a varied score with the commitment of the full band.
I particularly enjoyed Aimee Sullivan as the Narrator, who added fantastic detail to set the scene and characters amongst the otherwise plain physical backdrop and clarify details that cleared up the story – I rather liked "and they all lived happy ever" on her jacket at the end!
Our Red-limited audience side could easily feel the commitment of the entire cast and crew to deliver such a full production to a less than full audience due to COVID restrictions. If only that commitment could have been put into the more serious elements of the show – considering the dated language and sexual assault content that is breezed over, as are the majority of the women in the story – unwritten, and cliched. What wasn't fine in 2011 definitely isn't now and if you address an issue, follow it through. This aspect is addressed in the show programme, stating the views in the show are not those expressed by Footlights, and instead directs attention to the queer support group InsideOut who had partnered with this season.
It takes a lot to put on a show under Red, and it's really hard to adhere to all COVID restrictions when creating a work with this many layers, so kudos to all involved. You really deserve to feel proud of what you've accomplished.