Review: Illegally Blind
Now, I'm literally in this show so I figured probably not the best for me to review it. This week we've got the lovely Cordy Black writing some kind words!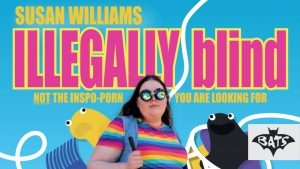 The experience starts in the foyer, after a ritual of scanning and phone-waving – the default programme for Illegally Blind is presented to the visitor in spacious, pleasantly bumpy Braille. With a token 'accessibility' programme for the sighties, of course. The show's vibe carries its sweet-and-sour mix of sarcasm and charm through the rest of the entertainment.
The person of the hour, Susan Williams, welcomes the audience like guests to a messy home, sharing a snippet of insight (heh, a vision joke) into their day to day. The production is fully designed around Susan's own character – undeniably charming, a little wonky and cluttered, with dashes of belly-shaking humour. For example, the script never loses the feel of being slightly off-the-cuff and alive, despite being planned with captions.
A play about the senses needs great design. Special shout-out to the lighting design by Brynne Tasker-Poland, which really gives life to the space at crucial moments and includes captions in fun as well as practical ways. Voiceover work by audio describers Eddie Kerr and Anastasia Matteini-Roberts (also the show's director) lets the production crew bring some extra comic moments to the piece. Sound design (Emma Maguire) is delicate enough to let Susan do their thing, stepping forward where it needs to flesh out a scene or set a stronger mood.
Susan themself brings a delightful physicality and poetic verve to their performance – they're an adept narrator, making bits of set transform, flinging props around and bringing joyful make-believe to the Stage's black box. BATS regulars may know them as an improvisor, and they're also prone to bouts of spoken word poetry – those influences come through in the show. But it's their physical presence, in a large stage that could intimidate any solo performer, that really draws you into their world. I'd come visit again.