Review: Jingle Elves: The Musical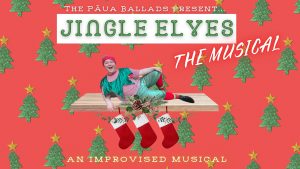 Reviewed by Talia Carlisle.
The tinsel is untangled, the star perfectly in place at the top of the tree. The only thing left is to make your way to BATS theatre to watch Pōneke's own Pāua Ballads totally f*ck Christmas up – their word not mine!
There are naughty elves and a secretive Santa, squabbling siblings and an abundance of beautifully wrapped presents just waiting to be torn apart. It's a Christmas unlike your favourite Christmas movie, with the added bonus that it's all improvised by Wellington's top musical improvisers – their musical ballads deliciously sprinkled throughout. This is JINGLE ELVES: THE MUSICAL. presented by THE PĀUA BALLADS, on until Saturday so get your merry selves there pronto.
When I arrived on Wednesday with a crowd of 14, the improvisers welcomed us all into the theatre with big grins and Christmas banter – a greater welcome than your own family could give, plus a bold Christmas cracker of a song to start the show.
Comedy royalty Megan Connolly and Wiremu Tuhiwai set the stakes high from the start, playing Santa's elves Snowball and Pocket, who have run away from home and aren't afraid of a karate kid infused show-down. They're not the only ones tempted to run away from Christmas, I am sure.
Pōneke improv celebrities Malcolm Morrison and Matt Hutton played devilish elf manager Fontaine (Malcolm) and preppy elf Sparkle (Matt) at odds over some dark happenings going down at Santa's workshop.
Moral dilemmas are rife throughout, with Bethany Miller as Christmas Star handling more than her share of dynamite on her first day working for Santa.
There are some fantastic one liners for all our elf ears to enjoy such as "Morals are malleable", and my favourite answer to "what's going on?" when you know you're in trouble…which is "Revolution, destruction and burning all of the things all of the time" –  which summarises the whole show to a TNT.
Glancing at first across the festive and sparkling set, I thought I saw Pāua Ballad's Austin Harrison sitting in Santa's chair and beard, however I must have been blinded by tinsel. The witty and talented Isaac Thomas is not to be underestimated as the wise and musical stoic Santa who brings the troublemakers back to what's important at Christmas time – fearing disappointing your loved ones – or in this case Santa.
The set and lighting are stars on their own, with snowflake and "Merry Christmas" projections, not to mention a surprise present each night for the improvisers to incorporate – never knowing what to expect. Just like the audience!
If you are after a relaxing family friendly show sure to put you in the giving spirit of Christmas, you are in the wrong place, my friend. But if you are after some laughs, some chaos and cleverness, all set in Santa's workshop now brought into the 21st century – take a seat and a firecracker and let's get this dynamite sparking.