Ready to Roll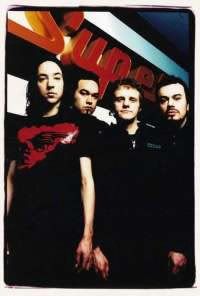 Despite the fact that it's New Zealand Music Month, there's no shame in celebrating the fact that the #1 and #2 spots in the New Zealand album charts are taken up by Wellington bands.
Wellington's original and now reborn rock riff-meisters Shihad's sixth album Love is the New Hate is being kept at only being kept at bay from the top spot by local, and very laidback, soul-dub-reagge legends Fat Freddy's Drop, whose debut studio album Based on a True Story is the first locally-produced indie-distributed album to go straight to #1 on its first week of release in this country.
And with the release of The Phoenix Foundation's second album Pegasus tomorrow (Mon 16 May 2005), there's the chance we may see three albums from local bands occupying the upper reaches of the album charts for a few weeks to come.
Shihad, Fat Freddy's Drop and The Phoenix Foundation will all be touring soon, and we guarantee* that at least one of the bands is likely to fall into your potential gig-going parameters, and that you will, indeed, enjoy the show.
* not an actual guarantee