Barmy Army enthusiasts – a survival guide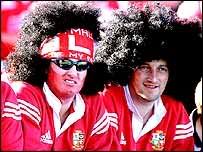 Here at Wellingtonist Towers there are two camps regarding the British & Lions rugby tour that's happening as we write. One school of thought is that it's a waste of money, time and energy that would be far better spent on Kiwi music; the other is that this is what life is all about.
Even if you've experienced a Lions tour before (last one was 1993) you might be in for a bit of a shock when the hordes descend upon our fair city – anything from 10,000 to 25,000 depending upon which commentator you want to believe.
Do not fear, MiramarMike has outlined your very own "Barmy Army enthusiasts – a survival guide" covering everything from how to recognise a Barmy Army enthusiast to safe interaction in common supporter-type situations.
Enjoy it and don't be afraid to pass it on.
Wellington Lions dates to remember:
Wednesday 15th: Wellington v Lions
Saturday 2nd June: All Blacks v Lions
We suggest you're either in total party mode OR forget about coming into the city center.
Bars to be particularly wary of are The Loaded Hog (down by the Days Bay Ferry wharf) and possibly The Bristol & Black Harp. These have been nominated by the Barmy Army as their official headquarters and 'overflow bars'.
If you've not got tickets for the test then watch this space for news of a fantastic big screen venue in the centre of town.