The New Cool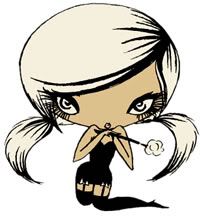 The New Cool – an exhibition that celebrates the achievements of some of New Zealand's small but successful creative companies – started this week at the Dowse Art Gallery out in the Hutt, and, having seen a wee sneak preview last weekend, as the final preparations were being put together, we can highly recommend getting along for a looksee. We'll be headed along again, if not just to marvel at the larger-than-life Misery doll (similar to that pictured right) that stands at the entrance to one of the exhibition rooms.
The exhibition is all about recognising some of the success of what, in many cases, are just the results of people doing what they love to do best. The companies showcased include Wellington's Loop Aot(ear)oa Recordings, Sidhe Interactive and Sticky Pictures, as well as businesses from further afield like Misery, Dawn Raid and Insidious Fix.
The show runs to the 30th of August.