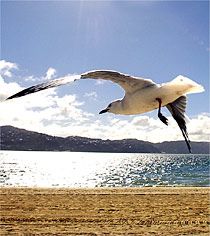 "September was drier and sunnier than normal in many regions especially during the first two weeks of the month, the National Institute of Water and Atmospheric Research (Niwa) said yesterday.
Of the four main centres, Wellington, which was warmer and drier than average, was the sunniest with 185 hours, Christchurch was cloudier and drier than average, Auckland warmer than average and Dunedin sunnier, with near average rainfall and temperature. "
Read more here: New Zealand news on Stuff.co.nz: Wellington sunniest main centre in September
Yay! Bring on Summer!