The Dockside Christmas Menu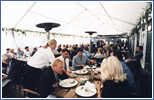 This particular Wellingtonista was lucky enough to be invited to an associate's Christmas lunch at the Dockside. It'd been a while since we'd been there, and last time it was a wintry evening & we huddled somewhere upstairs.
Yesterday however, was as tropical as it comes & we were delighted to discover that our table was outside on the covered deck, looking over the water towards the Loaded Hog & Shed 5. It was very nice indeed.
We hadn't realised, but we were to be treated to the special Christmas menu. In fact, until that moment, we didn't realise there was a Christmas menu.
A very nice (and quite hot) waitperson asked us if we'd like water & a bottle of wine to start. I said "make it 2 bottles of wine" and that set the tone for the afternoon. We settled on the Grove Mill Chardonnay & Lake Chalice Sauvignon Blanc.
Fresh bread rolls, with olive oil & balsamic dip were supplied.
After a few minutes of perusing the menu, and making smalltalk, we ordered.
I had the Prawn Laksa to start, which was much hotter than any laksa I'd make myself, but it was yummy, and given that I am suffering from a bit of a cold at the moment, it cleared my sinuses nicely for the next few hours. Most of the party chose either the laksa or the Salmon Gravadlax, which also looked very nice.
After entrees, we ordered more wine & explored the world of Secret Santa. I got a Fridge Racer, which is quite neat.
The mains were sizeable & everyone agreed, fantastic. I chose the Angus Beef, which was cooked to perfection, several others had the Groper, and one hearty soul had the pork loin. She only just restrained herself from picking up the bone & gnawing at it. If it had been me I wouldn't have been so polite.
After ordering more wine, our desserts were delivered. I'm not usually a dessert person, and while the dishes were all very generous, no-one felt completely stuffed, so everyone indulged. I can report the Christmas Pud passes muster, and the Fresh Berries looked succulent.
Replete, we settled back to people & waitperson (who I should add, are people too, not just sex objects!) watch, and finish the wine. That sorted, we ordered a round of Strawberry Daiquiries, followed by a bottle of Deutz.
By now, the light was fading & they were clearly gearing up for the dinner crowd. The outdoor heaters were being lit, we watched less fortunate people walking home from work along the waterfront.
We sloped home, too full for dinner, and waited another few hours before we deemed it a decent break from drinking more wine.
I don't know if you have to book, or how they're placed over the next week or so. But the Wellingtonista recommends the Dockside Christmas menu.
Dockside Restaurant and Bar Wellington Waterfront New Zealand