Red Carpet Webcam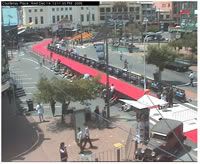 If you can't make it down to the King Kong Red Carpet extravaganza this afternoon, keep in mind that the Courtenay Place traffic webcam has an excellent view of the happenings.
(Note: requires a plug-in, IE seems to auto-install it, Firefox doesn't).
UPDATE: More streaming video options here.