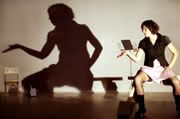 Well, after a well-earned holiday, the staff of Wellingtonista Towers are starting to retake their respective blogging places around the spacious and freshly decorated open plan office.
First up in our 'recommended things to do in the evening now that your days have returned to the daily working grind' is "Stories Told to Me by Girls" – a new play starting down at Bats Theatre tonight (Tue 10 Jan).
Written by Julie Hill, the play features Jo Smith (previously of the infamous Trouble Theatre Company), with music by Peter Daube (Bilge Festival), clothes supplied by the so-hot-right-now Misery, and a whizzy visual backdrop courtesy of director Stephen Bain.
Apparently the play "…shines a ginormous blowtorch on everything you didn't realise you didn't need to know about the art of female storytelling", which, for us, is more than enough reason to get along.
Season runs Tuesday 10th – Saturday 21st January (with no shows on Sunday or Monday), and starts at 9pm each night. Book at Bats.