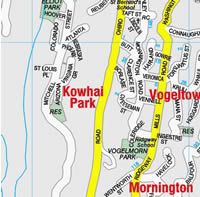 So, Wellington's busiest urban speed camera is situated down Ohiro Road (which, for those unfamiliar with this road, starts down in Aro Valley, works its way up to Brooklyn, the meanders down through Happy Valley to Island Bay).
This particular Wellingtonista knows the route well – I've been pinged at least four times over the last year. It's hard to reconcile the rationale of national road policing manager Superintendent Dave Cliff – who states that sites for fixed cameras had to meet one of two criteria: either they were in a spot where there was a history of speed-related crashes or where speed had been a problem, such as outside schools – with the section of Ohiro Rd where all my tickets have been picked up (between the Cinema and the 70k zone). The local school isn't on the road, there's no major intersections, and I've never been aware of any crashes on that particular stretch (not, of course, that that means there hasn't been dozens I'm not aware of).
The fact that it is such a long, uninterrupted and downhill section of road is, of course, why it gets so many 'speedsters'. As you roll down the hill towards Island Bay, you can't but help build up some extra momentum – constant braking is required to keep within the limit, and, if like me you tend to judge the speed of the car by the sound of the engine more than the actual speedo (which in my car is infuriatingly obscured by the steering wheel), it's easy to let it sneak up without realising. If you roll past the camera when your car has picked up an extra 10kph on you then – ping! – kiss another $80 goodbye.
It's interesting to note that the other speed camera location around the central city that's doing a lot of business is the one at the bottom of Adelaide Road, between the big Riddiford Steet intersection and Hall Street. Again, situated at the end of a long, straight, downhill stretch of road, and, in this case, hidden away behind a tree. Much like the one, also on Adelaide Road (at the end of another long, straight downhill stretch) that you pass every time you drive into Island Bay.
Still, that's what brakes are for, I suppose…