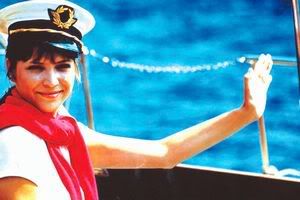 Whoa… it's May already & I have neglected to mention the wonderful Wellington Film Society even once this year!
So… without further ado, here is what is coming up next month. In the words of the illustrious president, David Lindsay…
Hi All,
May sees the conclusion of the Jean-Luc Godard retrospective, made possible by the generous support of the French Embassy and Creative New Zealand. As in previous years we are required to report to Creative New Zealand about aspects of their supported programmes. I encourage you to email me at the Gmail address below, your comments on the Godard season.
Remember, all our screenings this year are on Mondays at 6.15pm at the Paramount. We screen the feature only and aim to start the film pretty close to the advertised time.
First up on 1 May, PIERROT LE FOU (France/Italy 1965), Godard's playful tribute to the Hollywood pulp crime movies of the Forties, executed with typical Gallic cool. Essentially a brassy-hued remake of Breathless, the film puts a dissatisfied bourgeois man (Jean-Paul Belmondo) and his wise-ass babysitter (Anna Karina) in a world of trouble on a sunlit highway. In its most famous moment, Samuel Fuller, as himself, defines moviemaking as "love, hate, violence, death — in a word, emotion." Godard sets himself the task of making Pure Cinema out of counterfeit versions of these ingredients — and, with an alchemy that defies description, he does it.
The Godard season concludes on 8 May with LE MEPRIS [Contempt] (France/Italy 1963). A movie about the making of a movie and the unmaking of a marriage. Split between the locations of the Villa Malaparte in Capri and the Cinecittà film studio in Rome, it maps out the gulfs between two squabbling pairs: writer Paul (Michel Piccoli) and actress Camille (Brigitte Bardot) on the one hand, and director Fritz Lang (himself) and producer Jerry Prokosch (Jack Palance) on the other. Or should that be four squabbling pairs? Godard may have been obsessed with cinema, but he couldn't help recounting a couple of personal stories here: his own battle of wills with producer Joseph E. Levine (Hercules); and his crumbling relationship with his then-wife and frequent female lead, Anna Karina, to whom Bardot alludes in a manner that reveals the auteur's own contempt.
On 15 May, the first of two never-before-seen-in-New Zealand films by Michael Haneke, whose most recent film HIDDEN [Cache], included in last year's Wellington Film Festival, is currently screening in town. TIME OF THE WOLF (France/Austria/Germany 2003) stars Isabelle Huppert as a mother who seeks shelter with her family in the countryside in
the aftermath of an unspecified catastrophe. The title of the film, from an ancient Germanic poem, refers to the time before the apocalypse. In a sense, the unidentified disaster that drives Anne and her children from their home represents nothing more than an abrupt, mass refusal to observe social conventions. The writer-director creates a cinematic encounter that is deeply and morally compelling.
The second Michael Haneke film, CODE UNKNOWN (France/Germany/Romania 2000) screens on 23 May. Juliette Binoche stars in one of the most uncompromisingly difficult and challenging films of the year: its either a kind of high Euro-modernist masterpiece about race, culture, urban rage and alienated identity — or a perversely opaque and frustrating essay in enigma, a labyrinth of blind alleys, in which putative solutions are forbiddingly walled off. It is therefore a movie which requires a considerable investment of attention. It offers a meditation on the confluence of lives and cultures in the modern city. It is bewildering and exasperating, certainly — but virile, cerebral film-making.
All the films thus far in May are 35mm prints, the first three in CinemaScope – or the European equivalent. The Wellington Film Society first screened our last film of the month in a 16mm print in 1978. It has recently been restored but is only available in a digital format.
So, on 29 May: SALESMAN (USA 1969). Albert and David Maysles' documentary is about four door-to-door bible salesmen who move horizontally through the capitalistic dream. It's a fine, pure picture of a small section of American life that remains a social document and is one of the best examples of direct cinema. It is distinguished by its originality, by its intelligent handing of its subject matter, and by its fidelity to truth. This acclaimed documentary is regarded as one of the enduring masterpieces of 1960s American cinema.
Here is fairly short notice of a film seminar run by the Victoria University Continuing Education department. The Terrifying Wonder of Science Fiction Cinema will be conducted by Sean Redmond, a senior lecturer in Film at Victoria University, on Saturday 6 May, 9.30am – 4.00pm. The seminar aims to define and explore science fiction cinema. It will begin with a film screening and then go on to explore the dominant themes, styles, and pleasures of a number of seminal science fiction films. Film Society members qualify for the $49 discount fee. The link takes you to the full description of the course, and includes a link to the enrolment page.
You will remember last month we said that there was to be a southern hemisphere premiere of Kenneth Anger's most recent film MOUSE HEAVEN (2004) at the NZ Film Archive. It will be presented by Alice L Hutchison, author of Kenneth Anger: A Demonic Visionary, at 7.00pm on Thursday 11 May. Entry is by koha.
Also of interest at the Film Archive, four programmes of short films from Germany presented in association with the Goethe Institut under the general title Short & Sweet II, screening between 5 and 13 May. 100 years ago, all films were short. Even in the sixties, young talents like Rainer Werner Fassbinder, Werner Herzog and Wim Wenders were initially presented to the public with short film works. Internationally, German short films have occupied a leading position for many years. The countless awards won at international festivals are an obvious indicator of their success. The first series of SHORT & SWEET received an overwhelmingly positive response. This second series consists of a cross-section of the most outstanding and innovative short films made in Germany in recent years. They are divided into four thematic sections.
The Wellington Film Society is very grateful to the Paramount for making their facilities available at a very reasonable rate. It is in all our best interests to support the cinema by purchasing food and drinks from the bar on our screening nights, and attending the films that screen as part of their public programme.
Coming to the Paramount in May:
11 May: THE PROPOSITION (John Hillcoat, Australia 2005). Returning from the recent World Cinema Showcase, it's an arrestingly savage vision of British colonial 'civilisation' pitted against white outlaws and rebellious aboriginal slaves.
May 18 sees the opening of the ANPFIFF FOOTBALL FILM FESTIVAL, arrange
d by the Goethe Institut to tie in with the Soccer World Cup which is being held in Germany this year. The Director of the Goethe Institut, Christoph Mucher, initially mentioned this festival to me as a Film Society project but I could not see how we could give justice to the many features and shorts involved in our once a week time slot. Rather than chose just a few of the titles on offer I suggested that he talk to the Paramount – hence the festival in its present form. Some of the other film societies in the country have chosen a title or two.
Also commencing 18 May: DON'T COME KNOCKING (Wim Wenders, France/Germany/USA 2005). Another return from the World Cinema Showcase. 21 years after collaborating on PARIS, TEXAS, Wenders and Sam Shepherd revisit similar themes and fashion another visual ode to the natural splendour – and faded glory – of the American West.
25 May: GRIZZLY MAN (Werner Herzog, USA 2005). This was in last year's Wellington Film Festival. Self-taught naturalist Timothy Treadwell spent 12 summers living in the wilds of Alaska, obsessively filming the activities of grizzly bears. He was eventually killed by one of the beasts. Herzog delves into the wilful romanticism of Treadwell's quest, drawing extensively on the 100 hours of extraordinary footage he left behind.
Also 25 May: NEIL YOUNG: HEART OF GOLD (Jonathan Demme, USA 2006). A concert film with a touch of melancholy. Neil Young, diagnosed with a potentially fatal brain aneurysm, wrote and recorded the songs for his recent album Prairie Wind in the four days before his surgery. Post-surgery, he called Demme and said he wanted to make a film – this film – which showcases the first public performances of the songs on the new album, and some of his classics.
See you at the movies.
David Lindsay
President
E-mail: FilmSociety@gmail.com