Young and Hungry 2006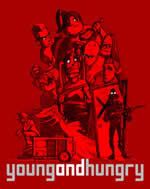 The Young and Hungry 2006 season is about to get under way, with three plays produced and performed by 'yoof' starting their two week run down at Bats from this Friday night.
This year we've got How to Live in a World Full of Terrorists, Generator, and, winner of best title award, Butt Ugly, which also sounds like it has the most entertaining (if familiar) plot: "What happens when all the odd-ball freaks band together and set out for revenge?"
The Y&H plays are always good fun, and have spawned many a renowned thespian over the years – be sure to pop along and spot new theatre talent in the making. Book at Bats.