Eclectic Electric
Here are a few things to keep your mind off the weather this weekend.
The World Press Photo '06 exhibition kicks off at Shed 11 today. It's been interesting to see that the publicity around town has taken a very political angle this year.
Just along the waterfront at the Museum of Wellington City and Sea (I wish they'd find a shorter name!), they're already two weeks into the month-long Wellingtonia LIVE event. The word "eclectic" doesn't even begin to describe the range of things going on there: there's a performances from the Tinakori Handbell Association, a Matariki celebration with Toni Huata, hurdy-gurdies, shanty singers, ghost tours, kete weaving and a debate on the controversial Marine Education Centre. My main interest will be in the series of talks organised by the Architectural Centre entitled "Why I do architecture". These kick off at 1pm tomorrow with Anna Kemble-Walsh and Martin Hanley of Red Design and John Mills of John Mills Architects.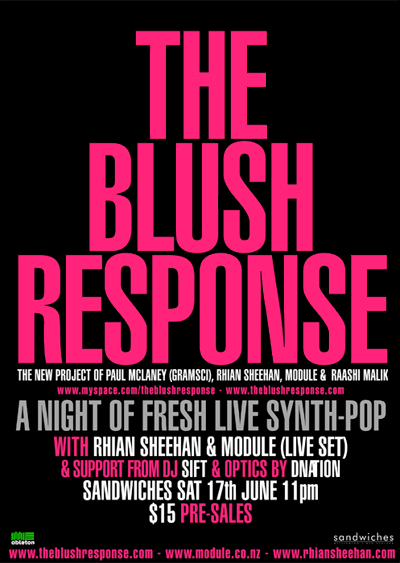 From eclectic to electric: new synth-pop band The Blush Response have their debut gig at Sandwiches tomorrow night. The band may be new, but the musicians will be very familiar to Wellingtonians: Jeramiah Ross (aka Module), Rhian Sheehan, Raashi Malik (of Rhombus, among others) and Paul McLaney of Gramsci.
Finally, you could always try to figure out the location of the current Mystery Bar. If you do, you'd better get looking tonight because it's closed on Saturday nights (that's a clue). It also has something in common with Sandwiches.