Wellington Lions set to Roar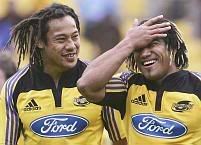 …and if I had a cent five cents ten cents for every time that pun has been used…
Anyway, the Wellington Lions are indeed headed North this weekend to take on Waikato (who, like Hadyn in his Dropkick's guise, doesn't have an 'official' nickname) in the final of the NPC Cup. There they'll be confronted by a very in-form team, a stadium full of fantical cowbell ringing Waikato supporters, and their own capability to implode in spectacular fashion.
Wellington haven't won the NPC tournament since 2000, and Waikato fourteen years back in 1992 (the only time they've won it, in fact). Ominously though, it had been fouteen years since Wellington won their last trophy, and in this year's round-robin play, Waikato were convincing winners over the Lions.
So, whadda we think? Are Wellington up for it? Will the fast and flashy Lions turn up? Or the bumbling and clueless Wellington team that occasionally takes their place?