Borders: opening Thursday
As Tom noted back in October, the northern portion of Capital on the Quay is to become a Borders. Imagine a bookstore with a giant footprint, a cafe inside, and possibly the largest range of stock in town. That might well be what we're getting.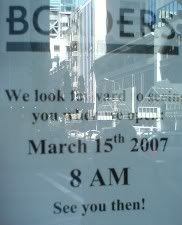 Several months later it seems the the work is just about complete, and earlier this week a sign appeared in the window: opening is to be 8:00am this Thursday 15th.
At the Wellingtonista we've been keenly awaiting the opening: probably more because we are hoping for some great opening bargains than anything else (not that we actually know anything – please comment if you do).
Around the watercooler though, there's been a bit of discussion about Borders entry into the Wellington book retail market: will it be good, or bad for the book-loving public?
Experience of the Auckland store varied: one of us felt that although the initial stock on opening was broad enough to have people hyperventilating (three different editions of "Finnegan's Wake" – a benchmark by which any book-store, -chain, or even society can be measured he said, misty-eyed with remembrance), over time it seemed to become less diverse.
But a couple of the others have found the Auckland store to be pretty good actually, beating out even Unity in some areas (post-modern American poetry, anyone?), and that the range available is huge.
At this point, the concept of The Long Tail made its way into the increasingly thick soup of the conversation. The idea applied in this case being that Borders' can generate volume and make money by selling one or two copies of many many different titles rather than flogging large numbers of just a few very popular titles. Which may bode ill for for our favourite small-but-more-specialised bookshops elsewhere in town: Unity, Vic Books, Parsons, and even Dymocks all have their adherents up here in Wellingtonista towers. It's hard to say how it's going to pan out: maybe Borders won't, or can't compete against the independents, crimping the Quay's other book megastore pretender Whitcoulls instead… or maybe not.
We guess we'll start to know on Thursday morning.