Bowling: It's OOOOOOOOOOON!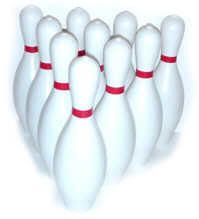 We are super pleased and excited to announce that the Wellingtonista Bowling League is officially a happening thing. Game nights will take place once a month until the round-robin is played out. The first night will be Tuesday 24 April at 8pm, so that we can all recover the next day.
There will be four people to a team, and your website/organisation may enter more than one team if you like. There will be a trophy. Register your team here in the comments, or email the.wellingtonista @ gmail.com before next Wednesday 18. We'll be bowling at The Lanes on Wakefield St, and it'll cost probably $10 per person per game. Plus the drinks you will want to buy us.
Please do participate. Or are you scared that we will KICK YOUR COLLECTIVE ASSES? Cos we totally will.