Pao Pao Pao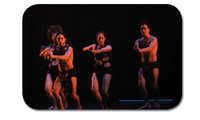 This evening the town hall will play host to three hours of indigenous noise making as Pao Pao Pao takes centre stage. This lucky Wellingtonista is on a mission; I have gained access as an embedded civilian photographer to report on the proceedings and soak up the atmosphere. My compatriot will be reporting for Taiohi. She is tasked with extracting some sound bites from the rangatahi and I will be running around with a camera in place of the delicious Mys-T.
Wellington is a small place, as I have been discovering since I moved here. Unless you are a complete hermit you will find yourself being inexorably drawn into various networks and their attendant sticky webs of gossip. Of course this is the same where ever you go, I think anyone who has felt slighty queasy looking at those Facebook friend wheels will know what I am talking about. On the other hand, sometimes the people you meet make you feel like the universe is conspiring in your favour. I am happy to be a drone for the hive mind here at Wellingtonista and will do my best to bring the honey, so in that spirit here is a link to my girl Shaarne clad in Blackberi. Some of our readers may remember a shop called Stand Up Apparel on Plimmer Steps that was featured on Wellingtonista way back when. Blackberi is still alive and kicking via Trademe and Bebo, so check it out if you like what you see.
Shaarne and I will be joining the hordes at the Wellington Town Hall from 7pm. The cost is $30 which is very reasonable for such a wide range of performers. I am looking forward to my first taste of the ancient art of taonga puoro and a chance to check out 4 Corners. Come along and get down with the tangata whenua.