New Zealand v. Vanuatu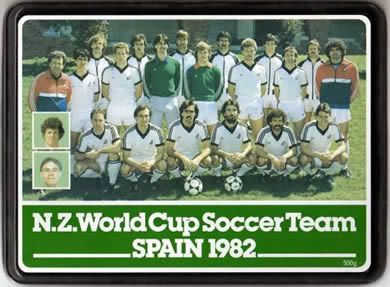 Ahhh, 1982 – when every month was Movember for the All Whites, and our bewhiskered team of British ex-pats and hard-grafting locals (and Wynton Rufer) took on the likes of Brazil at that year's Football World Cup.
It's been a long time since the All White's graced the stage of the World Cup Finals, but, amazingly enough, over the next few months there's an (outside) chance of the lads going 'all the way' again.
Since Australia has joined the Asia Confederation, the Oceania group is now pretty much there for the taking by the Kiwi boys. Barring disasters like the 2006 campaign's loss to the Solomon Islands, New Zealand is most likely to go through and face the 5th-ranked Asian qualifier (again, a pleasant change from previous qualifying rounds, where the Oceania qualifier would have to battle past the 5th-ranked South American nation), in a home-and-away playoff for a spot in the 2010 World Cup Finals.
Given the current Asian rankings, that's most likely to be one of Saudi Arabia, Japan, Bahrain or Uzbekistan – any one of whom the New Zealander's would fancy upsetting on a good day.
But before this can happen, the All Whites need to nail down the Oceania qualifying pool, and, to that end, you can help by heading down the Stadium this Wednesday evening and cheering on the team to a win over Vanuatu – a win that would guarantee our spot as top team in the Pacific.
New Zealand v. Vanuatu
Wednesday, November 21st
Westpac Stadium
Gates open at 4.30 pm.
Kick off is at 6pm.
Adults – $27
Child (15yrs and under)- $15
Family (2 adults and 2 children) – $64
Concession (Senior Citizens 60+) -$15
Students with valid ID – $15