Have your say – busker & husband charged for dog hair in room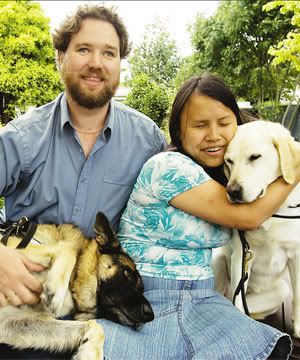 Talkback time – or type-back time to be more accurate.
This is the nice lady who sometimes busks near Woodward Street on the Quay, with her faithful guide dog at her side. Been a while since we saw her there.
Olivia and Jonathan Godfrey spent their honeymoon in a professed guide-dog friendly hotel in Palmerston North Wellington. When leaving, they were presented with a bill for an extra $85 for cleaning up unwanted dog hair.
I'm inclined to the side of the couple here, it seems the hotel refused the opinion of a guide-dog minder who was sent in to view any damage on the couple's behalf.
Besides… the hotel spokesman said:
"There were two big dogs in a one-bedroom apartment … You can imagine the smell…"
I can actually, I imagine you could hardly smell them at all & that 5 minutes with the windows & doors open would have clinched it.
And even if the dogs were moulting, how long does it take to vacuum a one bedroom apartment? Nice hourly rate.
Go for your life with the outraged comments either way.
Update:
The hotel has apologised to the couple & offered a couple of free night's accommodation.