Knocked Up Dead Skunk
There's a lot on in the cultural capital tonight but my completely biased pick for the evening's entertainment has to be Loudon Wainwright III at the SFBH.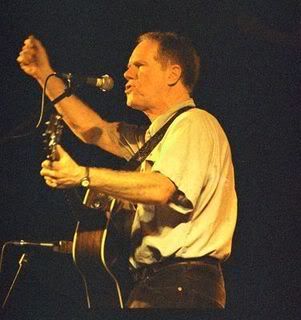 Supported and accompanied by one of his daughters, Lucy Wainwright Roche (half sister to the more famous Rufus and Martha), Wainwright is bringing his singer-songwriter folk-rockin' guitar to our shores on the back of last year's album Strange Weirdos: music from and inspired by the film Knocked Up. Yep, not only did Loudon III supply the music for the movie's creator, Judd Apatow (who made Freaks and Geeks, so he must be cool), but he also acted in the movie – playing a gynecologist.
Wainwright's most famous for songs like 'Dead Skunk'(1972) but alongside his musical career his acting has been ticking along for some time; the two strands successfully marrying when LWIII played singing surgeon Capt. Spaulding in M*A*S*H.
Intrigued? I am. And in the interests of full disclosure: my band, the Wrongdoings, will open for Loudon tonight, on the eve of our Auckland debut at Ladyfest '08.
Doors open at 9, tickets available from Ticketek, Real Groovy or on the door at San Francisco Bathhouse.
CUNNING LINGUISTS: if you can tell me what it's called when you add a "III" to your name I'll be dead impressed either at your linguistic knowledge or your mad google skillz – the closest I could get to it is that it's some form of pronominal suffix. And it's driving me crazy.