Drinking in the streets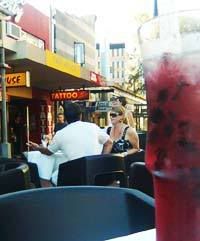 The Masked Barfly has joined the problem drinkers in Cuba Mall. No, I haven't started quaffing meths or wrestling diners for their steaks (it's all a filthy lie): Good Luck have gone overground and now have an outdoor drinking area in the middle of the mall. I suppose the local retailers don't mind people drinking in the streets as long as we're paying them $15 a pop for the privilege.
A couple of us flies were still buzzing after the Ornette Coleman gig, and after a quick stop at Kazu to fill our abdomens (and to sup on salt-rimmed sake & tonic – so wrong and yet so right) we headed off to Happy for the rumoured "after party". Well, it was definitely afterwards, and I suppose it was a party, but unless we left too early (the Newtown bus was calling) there was no sign of Mr Coleman or even one of his myriad bassists. Oh well, a Chris Knox sighting will do for now.
So, "El Toro" is it? It seems all things Mexican are hot right now, and while it's not exactly a tequila bar, Viva Mexico from the much-missed Wakefield Markets will be making a welcome return. It opens this Friday at the back of the Left Bank, complete with old favourites like Divorced Eggs and new hipster-friendly Dios de los Muertos decor.
Speaking of comebacks, Herd Street Brasserie is apparently set to reopen next month. Let's hope that the new owners are more savvy than the original ones: though let's face it, that wouldn't be hard. And the Masked Barfly also hopes that they continue an emphasis on alcohol as well as food: all together now, "Oh, I do like to drink beside the seaside…"