Comings and Goings
The start of each year often sees a shake-up of the bar and restaurant scene, and with the Current Economic ClimateTM one might expect a few more closures than usual. Let's not dwell on such morbid speculation, and look at a few closings and openings that we do know about.
While discussing the demise of Temperance (which didn't reopen this weekend, despite DB's threats assurances), Blair mentioned that the Courtenay Arms had been replaced by something called "The Kiwi Pub". It doesn't look quite as dire as I had feared, and its light, airy feel is more beach café than six-o'clock swill. It's still nostalgia-by-numbers, though, presumably aimed at the backpacker market, and despite the odd decent beer on the list, the Society Of Beer Advocates is not impressed.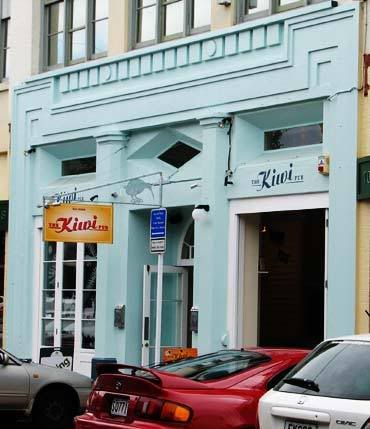 Across the road, New Orleans will open its new Allen St location in a a couple of weeks, in the space long left vacant by the unlamented Play. I hope it lasts longer than its cursed Lambton Quay incarnation, and while it's presumably aiming at a different demographic, its Cajun cuisine will have stiff competition from Sweet Mother's Kitchen around the corner.
Back in Blair St, Boulot was once a a firm Wellingtonista favourite, but it has finally closed after months of feeling like a shadow of its glamorous former self. It's apparently going to reopen as an Italian restaurant, though under different management.
While we were reluctant to let you in on this, we have to tell you the shocking news: there is a Really Good Bar in Courtenay Place! As the Fly intimated many months ago, the former Mercury Lounge was taken over by the McKenzie brothers and given the transitional name 46c, but it was only just before Christmas that the venue was properly transformed and re-opened as Hooch. It's a much more sumptuous space with the false ceiling ripped out and antique-style couches installed, and the slight Burlesque theme was brought out on New Year's Eve when the bartenders looked gorgeous in fishnets and frilly skirts. And that was just Jonny!
On a slightly different note, most likely an out-of-tune one, Club K karaoke bar closed down at the end of 2008. The note on the window states that prizes on their closing nights included "bar tabs for the opening of our new bar party": can any regulars of Club K confirm whether it's going to be in the former Oaks location or somewhere else? It's okay, you can comment anonymously: we understand.
Not much is changing in the Cuba Quarter, apart from the gutting of the former takeaway under SFBH (which is currently emitting a miasma to rival The Great Stink of 1858) to make way for a new café of unknown qualities. There is one new place right at the top of Cuba St, though it presumably won't be around for long: Kreuzberg Summer Café. Based upon the (perhaps overambitious but nevertheless welcome) comparison of Cuba St to the eponymous immigrant/bohemian quarter of Berlin, it's nothing more than a caravan with a few tables and pot plants, but it should be a pleasant enough location when (and if) we get a summer. And perhaps it might not be limited to one season: there are rumours of a liquor license, and even hot pools!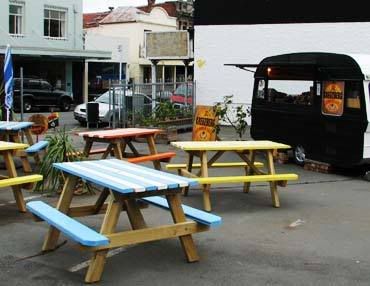 One bar that does seem to have disappeared without a planned replacement is MVP in Dixon St. The old Chevy's was a bit of an institution, though not always for the best reasons, but nothing seems to have got it right in this location since then, and the site is currently for lease. Bring back the neon cowboy!
On a happier note, the Copita site in Featherston St has "Leased" signs in its windows and other signals that a replacement is on the way. Last year's closure of the upmarket Spanish-influenced restaurant caused a bit of a media flurry and early speculation of a hospitality downturn, so it's good to see something new on the horizon. Of course, it could just be taken over by an estate agent's office or a Starbucks, but here's hoping that something comes along that does the space some justice. [Update: according to Roarprawn, Dermot Murphy of Black Harp and D4 fame has taken it over, and it will become "Koi", "a fusion of Japanese and Kiwi kai". Could be interesting.]