Cinephilia: Opening This Week
As that old war film quote goes, "it's quiet, too quiet": only three films opening this weekend as the mad rush of the last few weeks works its way through the system.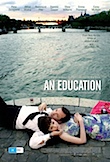 Back from the Festival (and haven't I had to say that a lot recently?) is An Education, adapted by Nick Hornby from Lynn Barber's memoir of growing up in 1960s England "before it became the 60s". Wise bods are picking newcomer Carey Mulligan for an Oscar nomination next year as the lead, and she's very solid support from the likes of Alfred Molina, Emma Thompson and Peter Saarsgard (whose English accent is very good judging by the trailer). The director is Lone Scherfig who came out of the Dogme movement in the late 90s but also made the dark comedy Wilbur Wants to Kill Himself. Empire, Penthouse and Lighthouse.
The rest of this week's new releases after the jump.
At the multiplexes this week are Couples Retreat, a comedy for grown-ups which brings together a few of the bigger names of recent years: Vince Vaughan (a very big name), Jason Bateman, Jon Favreau, Malin Akerman and Temuera Morrison. Three couples try and solve their problems by going on holiday together and it's Jean Reno's job to sort them out. Readings and Sky City Queensgate.
Another candidate for this year's beefcake is Channing Tatum who has used his looks and his physique to win himself starring roles in films like Step Up and G.I. Joe, but has also demonstrated some depth working with directors like Michael Mann (Public Enemies) and Kimberley Peirce (Stop-Loss). Fighting looks more like the former than the latter – Tatum plays a cage fighter on his way to the top, managed by Terrence Howard. It might be Rocky for the Ultimate Fighting crowd, or it might not. Readings and Sky City Queensgate.
This year's most stylish film festival starts next Wednesday night at the Embassy. The Italian Film Festival is never less than interesting and the mix looks good again. Despite the fact that the Nicolini's food at the their functions always manages to effortlessly get the media on-side, I will attempt to review the films with the utmost independence. I've got four DVDs to watch and I'll post my preview here simultaneous with it's insertion in the Capital Times next Wednesday. The other releases will be reviewed in the same paper on the same day and online at the new look Funerals & Snakes shortly afterwards.