Spartacus R rounds off Soundstage for 2009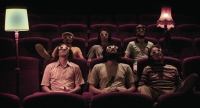 The debut season of Downstage's Sunday music programme 'Soundstage' has been a tearaway success. The formidable line-up of bands including The Woolshed Sessions, Little Bushman, Sam F Scott and The B.O.P and Rhian Sheehan have all thrived in the theatrical environment playing to capacity audiences.
We're now at the last Soundstage gig for 2009 and Wellington six piece psychedelic psychonauts Spartacus R are the perfect band to close out the season. Their theatrical credentials are impeccable having built a reputation for unique and innovative performances at the NZ Fringe Festival. At the Fringe 07 they presented Spartacus R in Octophonic, and the following year at the Fringe 08 Spartacus R in 3D, combining live music with 3D visuals in the Paramount.
Based on a foundation of blues, rock and funk, Spartacus will deliver a captivating and electrifying performance that explores new musical and visual territory. For Soundstage on 15 Nov Spartacus R have crafted a completely new show combining 100% new musical material with projected visuals, actors and even live poetry.
More about Spartacus R and Soundstage after the jump.
Warren Maxwell (Little Bushman, Founder Trinity Roots) is a fan: "I am completely musically 'turned on' by Spartacus R. Their music is well-crafted and intricately sincere. Fresh, contemporary retro, and completely unpredictable… Beautiful."
Soundstage is an experiment in music presentation aimed at showcasing Wellington's best artists. Tailored for fans (and artists) that prefer not to do battle with late nights and intoxicated punters, Sunday evening Soundstage gigs are the perfect chance to sit back with some friends, a glass of wine and enjoy the show.
Audiences benefit from seeing their favourite acts in an intimate, seated venue, alleviating annoying sightline issues that you often get watching bands in a bar. Not to mention the added benefit of a respectable 7pm start time.