The Princess and the Sausage
Most "pop-up shops" emerge in vacant retail spaces, but The Princess' Bedroom was different: the shop itself popped up, in the form of a brightly-painted caravan in a gravelly old Ghuznee St carpark. Now it has company, in the form of a "Sausage Sizzle" caravan in the adjacent parking space, serving an odd combination of Kiwiana sausage sarnies, tempura vegetables and hearty soups & stews.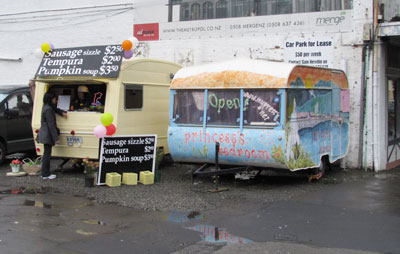 Neither this caravan nor its girlier neighbour fit in with the emerging highbrow designer vibe across the street (Milk Crate, Quilters, Customs and Bowen Galleries), but it sure beats a puddle-ridden carpark. Perhaps we'll see more of this caravan urbanism setting up temporary shop in vacant spaces until we crawl our way out of the recession, and it looks like a cheap and flexible way for small businesses to get up & running in the gaps and fringes of the city.