Wheel Stylish: the Cycle Chic Fashion Show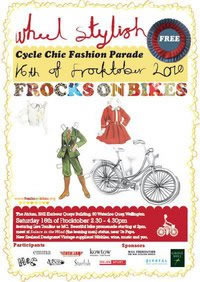 Fabulous fashion + beautiful bikes + Wellington women = Wheel Stylish!
Bikes are back baby (not like they actually went anywhere) and there is *such* a range of cycling experiences to be had.  You've got your hipster fixie rider, your lycra-clad fit freak, your sensibly attired public servant with the backpack who did not get the 'Gov3 discontinued' memo.  According to some wags it is even a modern symptom of male mid-life crisis.
But what are the fashionably attired to do? Those that do not thrill at the idea of a battle against the elements for its own sake, those that prefer to glide or cruise.
Wheel Stylish is here to demonstrate that fine attire is no barrier to gadding about on your bike.  Lovely ladies will be modeling local threads astride bikes from Mamachari and R&R Sport, because nothing makes one feel more lady-like than a basket full of produce up front (many a European and Japanese gentleman have been know to sport one too).
Come along on Saturday to see how local fashion houses Starfish, KowTow, Voon, de Nada, Emma and Hunters & Collectors do "cycle wear".
Lisa Tomlins will be the charming and frocked up MC for the afternoon and there will be wine and refreshments on offer in the Atrium.
It's free as a bird, but numbers are limited.
Join the city cruise ride to Wheel Stylish, starting from 'Solace In the Wind' (the leaning man sculpture by Te Papa) at 2pm, or you can come straight to the venue for 2.30.
On wheels or on foot… Be there!
What: Wheel Stylish – Cycle Chic Fashion Show
Where: The Atrium, BNZ Harbour Quays Building 60 Waterloo Quay
When: Saturday 16 October 2.30-4.30pm
Your intrepid reporter will be modelling de Nada on the day, wish her luck!