Who's the coolest of them all?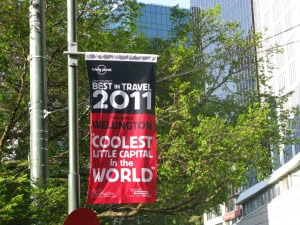 So, the news is out – on the front page of the DomPost, an advertising colour supplement, and banners all along the Golden Mile: Wellington is the "coolest little capital in the world".
Yep, that means Wellington has beaten out other little capital cities such as Vatican City, Dili, Kabul and Apia to be the coolest. Ha – take that, The Pope!
The excerpt from the Lonely Planet's Best in Travel 2011 guide (and let's remember, this is a massive promotion for Lonely Planet's book, as well as Wellington tourism) summarises the best of the city, and notes that "locals love their city". Hey, that's true!
But maybe more impressive than the "best little capital" title is to check out Wellington's place in Lonely Planet's top 10 list of travel destinations for 2011:
1. New York City, USA
2. Tangier, Morocco
3. Tel Aviv, Israel
4. Wellington, New Zealand
5. Valencia, Spain
6. Iquitos, Peru
7. Ghent, Belgium
8. Delhi, India
9. Newcastle, Australia
10. Chiang Mai, Thailand
Yep, those are some really amazing cities on that list (including my fave Newcastle – a cultural gem!). It's choice to be amongst such company.