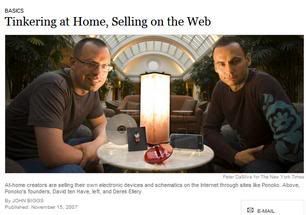 Local start-up and Friends-of-Wellingtonista Ponoko (among other connections to us they're also part-sponsor of our awards this year) have their picture at the top of an interesting article in the tech section of today's New York Times. The article talks about the rise of internet-aided design and making and describes Ponoko thus:
Ponoko, a company based in New Zealand, allows customers to upload designs for flat shapes that can then be snapped together like Ikea furniture. Making a prototype can be as simple as cutting shapes out of cardboard. Users then create a digital version and send it to Ponoko, which cuts the pattern out in metal or wood with a laser.
There's a fair head of global buzz building up around Ponoko, whose potential extends far beyond the Times' fairly neutral description of what can be achieved with them today.
And as for us: well, we were very excited to note what looks like a prototype of the highly sought after 2nd Annual Wellingtonista Award trophy visible on the table between Dave and Derek. So maybe this means we've made the Times as well?