The election may be done and dusted, and a new Parliament sworn in, but the post mortems will continue in many political circles. We now have detailed voting records from every booth in the country, and while some aspects of booth data are problematic (see the technical notes below for some provisos), it's the finest level of electoral data we have, and looking at how each booth voted might reveal some interesting relationships. Can it also help us answer some of those burning questions, such as: did some parties "steal" votes from others? Is the Green Party just for urban liberals? Is Wellington in a bubble of its own?
There's a huge amount of data, and one of the first tools a data visualiser often employs to explore a big dataset is a scatterplot matrix. This plots every variable against every other one, and where there's a strong relationship this stands out as a distinct line or cluster rather than an amorphous blob. The matrix below shows a scatter plot for each pair of parties, charting the proportion of the vote that they each received, with a tiny dot for each one of over 5000 booths. I've also coloured the booths according to some broad electorate categories (Wellington, other urban, rural, and Māori), and the diagonal shows histograms of each party's vote by booth, broken down by these categories. What does the data show us?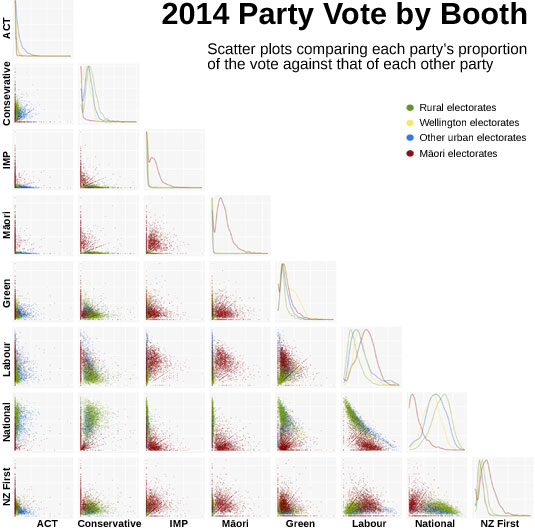 You can click on the chart for a larger version, but even at this scale certain things stand out. There's not a lot of positive correlation between pairs of parties, except some weak ones such as between National and the Conservatives and Labour and Internet Mana. There's a negative correlation between National and Labour, as one might expect. The Māori electorates often stand out, partly because there are a lot of applicable booths, but also because of some strong clustering. Some of the smaller parties, such as ACT, Māori, Internet Mana and Conservative, show intense polarising effects: booths cluster along the axes in an L shape, showing that a lot of booths had little or no votes for one of those but relatively high votes for the other. It might be just my choice of colours, but Wellington doesn't stand out as much as I had been led to expect.
After the break, let's zoom in to some of the more significant comparisons.
{ 0 comments }