TAWA5 Best Café
Not to be confused with "Best Coffee". This category is about the sort of place you go for brunch on a Sunday morning. Good coffee is important, but so is good food.

Meow
Hidden away down Edward Street, Meow does great brunches (the gingerbread pancakes are a fave), with a large dining area suitable for groups or space to read the weekend paper. Meow is developing into a fine venue for low key gigs from great bands. Also much loved for their approach to gluten free food.
Meow Cafe: 9 Edward Street
Baobab Cafe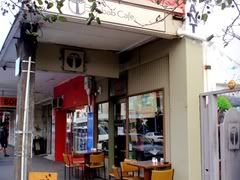 This cafe is so Newtown it's almost ridiculous. For reading material you'll find _Adbusters_ displayed in flax kete, and on the counter you'll find CDs for sale in support of the local primary school. Even if that's not your type of thing, the food probably is. There's a wide selection of baking, including gluten-free treats, and the pistachio pancakes are to die for, even if they take a mysteriously long time to be cooked. The menu changes frequently according to what's in season, so you might not always be able to get grilled stone fruit or a rhubarb smoothie, but you are guaranteed something delicious nevertheless.
Baobab Cafe: 152 Riddiford St, Newtown
Sweet Mother's Kitchen
From early morning breakfast through to late-night noms, Sweet Mother's is a versatile and popular joint. Its soul food/Tex-Mex inspired menu is a refreshing change from regular cafe fare, and it's often the first port of call for out-of-town visitors. Oh, and one more thing: curly fries.
Sweet Mother's Kitchen: 5 Courtenay Place
Maranui
A huge community effort saved the fire-damaged cafe from demolition, and the Lyall Bay community has been rewarded with a lovely local cafe. The service might be slow at peak times, but you can enjoy the spectacular ocean views while you wait.
Maranui Cafe: 7a Lyall Parade, Lyall Bay
Kiallas
Another Newtown favourite, Kiallas' menu includes both standard Pakeha cafe fare and Greek specialities. We like the pancakes with rhubarb compot, the haloumi and the meze platter. And we also dig how they won't laugh at you if order bacon with your vegetarian breakfast. The coffee, beans from Peoples, is good and strong.
Kiallas Café: 176 Riddiford St, Newtown