Cinephilia: Opening This Week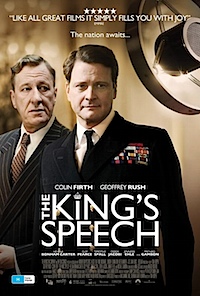 It's that time of year when the serious Oscar contenders start rolling out. The plan is usually to release a film between the Golden Globes (or the Oscar noms) and the Academy Awards night, maximising the attention before your films turn into losers (as most of them will). So, it's going to be a busy few weeks for those of us who appreciate quality, and we can expect a few commercial palate cleansers at the same time.
This week's contender is The King's Speech, directed by Tom Hooper (The Damned United) and starring Colin Firth and Geoffrey Rush. I'm fortunate enough to have seen this one already and it's easy to recommend. In fact, while it doesn't demonstrate the fireworks of films like The Social Network, True Grit or Black Swan this is a film that's very hard to argue against.
Firth plays King George VI (known to the family as Bertie), second son to George V (Michael Gambon) and who grew up with a chronic stutter. This wouldn't have been a problem except – it was the dawn of the radio age and the people expected to hear from their leaders and his dubious older brother (Guy Pearce) was not only taking up with a divorced woman but was also sympathetic towards the fascist menace across the channel.
All traditional treatments having failed, Mrs King (later the Queen Mum), played by Helena Bonham Carter, finds a failed Australian actor turned speech therapist (Rush) to try and save the day. Playing all over town (Empire, Lighthouse Petone, Readings, Penthouse, Paramount, Event Cinemas Queensgate and Embassy) from today, you're going to find it hard to escape over the next few weeks.
The Fighter is the true story of "Irish" Micky Ward, a journeyman boxer who overcame adversity to become something of a legend in the 80s. Already the winner of two Golden Globes (for what they are worth), The Fighter is a bit of a vanity project for Mark Wahlberg as Ward, Christian Bale plays his trainer/brother, and there are two strong women involved – Amy Adams and Melissa Leo. Lighthouse Petone, Readings, Penthouse and Event CInemas Queensgate.
More fun than that sounds, The Green Hornet is a superhero comedy written by the team that gave us Superbad in 2007 – Seth Rogen and Evan Goldberg. Rogen himself plays playboy media heir Britt Reid who for larks invents a masked identity to fight crime but discovers that LA gangsters (including Inglourious Basterds Oscar winner Christoph Waltz) play for keeps. Fellow Wellingtonista Robyn and I checked this out earlier this evening and were efficiently entertained. The Green Hornet is in 3D and 2D at Readings and Queensgate and 3D only at the Empire in Island Bay.
As is so often the case, the poor old Paramount brings up the rear but they have an interesting looking biopic of the great French pop legend Serge Gainsbourg. It was in the Festival last year and Bill Gosden said, "Cartoonist Joann Sfar proves a bold and inspired choice as director, interpolating occasional puppet action into a pacey account of the defining dramas – and greatest hits – of Gainsbourg's lurid life."
All these films, plus advance looks at Black Swan and The Hopes and Dreams of Gazza Snell, will be reviewed at Funerals & Snakes next Tuesday and in the Capital Times the following day. Tell us what you've enjoyed at the movies in the comments.