Webstock directions: rock out, tweet up
We're not going to bother telling you about Webstock because a) you should already know all about it and b) there was only one ticket left as of this morning (although there are still tickets to the ONYAs available, so get on that. Instead, we're going to tell you about two related events that we think you should come along to.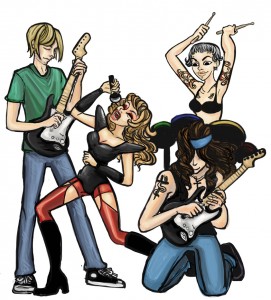 The first, on February 3, is Rockstars: Rock to Stock, the fund-raising follow-up to The Case of the Midnight Note from Collective Noun. Like last year, they're trying to help good people get to the amazing Webstock conference for cheaper (full disclosure: I was a recipient last year), only this year, they're doing it live on stage. Um, playing instruments that is. Not real instruments though. But playing real songs on fake instruments, via Rockband, the Playstation game.  And before that, imaginary bands have to create real life campaigns in an online game. And then live out their rock dreams at a real event! Really, you should read more about it in their own words:
Be a Rockstar. The game for people who love to rock out.

Musical talent not required. Awesome on air guitar, sing a mean lip dub, obsessed with music-based video games, or simply a massive music fan? This is your chance to finally be the rockstar you've always dreamed of.

Create your persona and form an awesome band online with your friends
Take part in rock challenges and gather some fans
Then ROCK OUT in real life at the Battle of the Bands!
Make a video… The top performances will be screened at the Battle of the Bands, with the winner picked by The Phoenix Foundation!
Of course, it goes without saying that you should become a fan of Jo Hubris & The Hubrettes. And if all that sounds like too much effort, just get a ticket and come along on the night.
The second event you should come along to is on Wednesday February 16, the Official Wellingtonista Unofficial Webstock Warmup. Come have drinks with like-minded people who want to show you a good time in this awesome city of ours. Just like last year, you can meet people in relaxed beer-friendly surroundings before the conference proper begins, and/or solidify friendships & contacts you've made during the workshops. Non-Webstock-attendees are welcome, but may feel quite sad that they're missing out. This year we'll be at Mighty Mighty, upstairs in Cuba Mall, from 6pm. Spot us by our Webstock satchels, probable iPhones and warm, welcoming smiles.
(If you're going to the SilverStripe meetup at 5pm at the Bristol – right across the street -, beforehand, don't worry, we'll be going late into the night so you can still come and drink with us after!).