Cinephilia: Opening This Week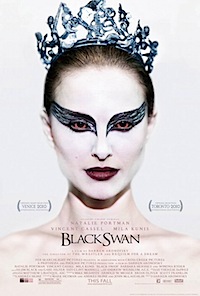 I understand that New Zealand is proportionally the biggest market in the world for dance movies – the Step Ups, Stomping the Yards, dance battle films are huge here – so I wonder whether that will hold true for a psychological drama set in the world of classical ballet. Black Swan is Darren Aronofsky's follow-up to The Wrestler and the first of about half a dozen Natalie Portman films that are due out this year.
Portman is a brittle young dancer, plucked from the chorus to play the Queen in a new production of Swan Lake in New York. Can she hack the pressure? Well, no, actually, but the film is all about how she fails to hack it. My review is in the current Capital Times and also online if you click here. The film itself is everywhere: Empire, Lighthouse Petone, Readings, Penthouse, Event Cinemas Queensgate and Embassy.
Also already reviewed at both locations is The Hopes and Dreams of Gazza Snell – an Auckland-made picture described as a comedy/drama even if there isn't much comedy in it. Gazza Snell (Aussie actor William McInnes) discovers that you need more than just a big heart when a family tragedy starts to shake his world apart. It's a Paramount exciusive.
Finally, we get to see one of the surprise hits of the American summer, Secretariat is the true story of the extraordinary racehorse who in 1973 won the first Triple Crown in 25 years. That's a very big deal apparently. An unlikely management team of a woman owner (Diane Lane), eccentric trainer (John Malkovich) and a black groom (Nelsan Ellis) lead the literally big-hearted horse to unprecedented success and the film is one of those feel-good pictures that used come along a lot more often from the Walt Disney Company. You can find it at the Lighthouse Petone, Readings, Penthouse and Event Cinemas Queensgate.
Secretariat wil get its review on Tuesday at Funerals & Snakes (and in the Capital Times on Wednesday).
Finally, there's a special screening of one of my favourite films of the last few years, Jafar Panahi's Offisde on Sunday evening at 6.15pm at the Paramount. Jafar Panahi was recently imprisoned for six years by the Iranian authorities (and also banned from making films for a further 20) and the screening is part of a global campaign to have the filmmaker released. Offside is the delightful story of four football mad Teheran girls who try and sneak in to a male only international match. I reviewed it here in 2007.