A great yarn – what Tash did next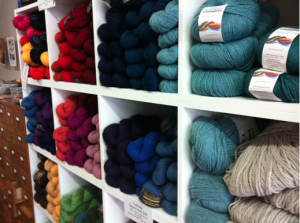 Remember Tash from It's A Tree? Not content to rest on her laurels – or tuis, or flowers, badoom chish – she's kept herself busy in the world of wool, opening up Holland Road Yarn at 281 Jackson Street, Petone. We thought we'd have a chat to Tash and see exactly what was going on…
1. So, you have a shop. What are you selling?
Primarily, yarn. The focus is on having a balanced selection of top quality New Zealand yarn and fibre alongside international brands that can be hard to acquire here. A lot of local knitters rely on ordering over the internet – now it's in a shop to be touched and fondled before committing to a project. We've also got lots of knitting needles, books, patterns, and a few special things from local crafters. To name a few names, we've got everything from Malabrigo to Cascade, beautiful but inexpensive Vintage 8ply from Skeinz, and of course loads of hand-dyed yarn.
2. Your shop is on Jackson Street, yet it's called Holland Road. Where
does the name come from?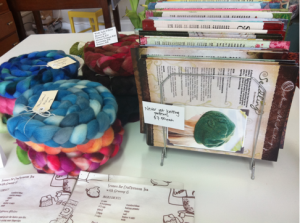 When I was trying to come up with the name every sort of yarn cliche ran through my head. I realised pretty quickly that I needed to stay away from knitting puns and settled on Holland Road Yarn Company. The name really clicked and means a lot. I was in London in 2009 and found myself working part-time in the most beautiful shop specialising in hand-dyed sock yarn. It was there I knew I'd stumbled across what I wanted to do with my life. At the time I was living in a fantastic flat of travelers – on Holland Road. It was a place where friends became family; anyone that has stayed there for any length of time still fondly refers to it as 'Holland Road' – a place of fun, encouragement and support.
My Dutch heritage also comes into play. Both paternal grandparents came over from Holland after the war. Coincidentally the shop is just around the corner from where they used to live, which I find really wonderful.
3. Just who do you think you are? What's your background before
opening up the shop?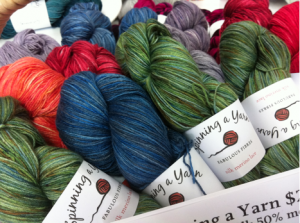 Haha I don't know who I am! I've got an undergrad degree in Art History and English after spending a year pretending to be a fashion and textiles design student. I dabbled in travel, snowboarding and government before deciding that yarn needed a more prominent part of my life. As a student I worked in retail, plus for the last year I've had the pleasure of working at Wanda Harland. Besides that I rely on my passion and the amazing support of friends and family.
4. What inspires your shop? What kind of atmosphere are you trying to create?
Holland Road Yarn Co is basically the yarn store I've always wanted to shop at. Couches were a must – people have to feel they can sit down, knit and browse at their leisure. I hope it feels like your lounge away from home – a place to get to know people, learn new things and be inspired.
5. If we're coming to Petone to visit you, where else should we check out?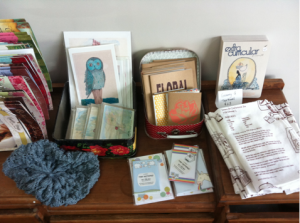 Go Bang, for the amazing grilled halloumi, Cultured for excellent cheese and Wendy's happy smile, Wanda Harland for gorgeous design and, of course, Holland Road Yarn Company!