Notional Significance: Concrete Archipelago
The path, from tilted field down into the motorway chasm, winds past richly-tagged garage walls and rear fences. In my mind, I think that Oak Park Avenue was once like this — dark brick, spalling concrete, crunching gravel, rusting corrugate — but I no longer trust my memory as anything other than a synthesis of sensations and imagination. In any case, the context is different, as this was never a bypass-condemned zone of dereliction: instead, the villas facing  the Terrace have been long since divided into chichi serviced accommodation, tarted-up apartments and upmarket tarts.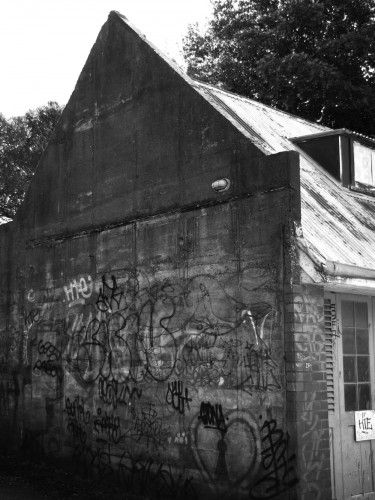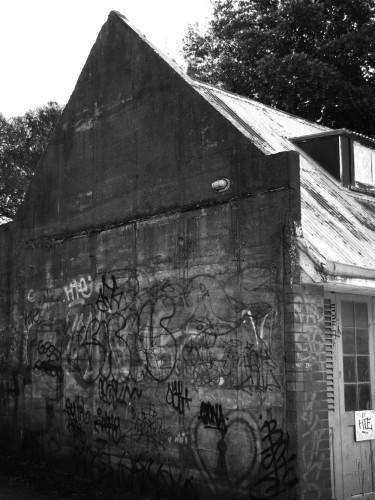 These driveways and rear yards are not quite public, and it's with some relief that I turn back into the dingy bush, hulks of sofas mouldering among the kawakawa, down rickety steps and onto a narrow pavement beside the motorway shoulder. The retaining walls are mute and monolithic, the concrete engraved with inscrutable patterns of squares and grooves. The geometry is hermetic, Mayan ruins and fractured planes, the gaping portal, tunnels to nowhere. Someone has scrawled a pentacle and circle-A on a seemingly inaccessible ledge. The association of anarchism and the occult could simply be an arbitrary combination of taboo symbols to épater les bourgeoisie, but some anarchists have claimed Aleister Crowley as one of their own, based on a reading of the line "Every man and every woman is a star" as a statement of personal liberty and divinity. Regardless, amid the blazing heat and insensate roar of traffic, this seems an incongruous site for Thelemic sex magick.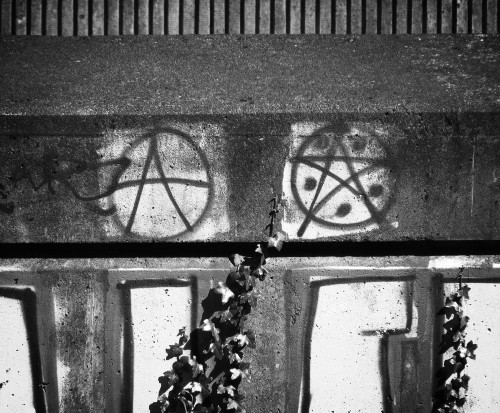 As the landscape opens out, I walk beneath the first overbridges of the highway so far and past a sign for Kumutoto Lane. It's a reminder of the buried stream, but I can still remember my puzzlement when first coming across it twenty years ago: the name sounded Japanese to me, rather than Maori, and I could draw no connection.
I walk beneath one more overpass, and I'm suddenly in a world that's a textbook collage of Ballardian imagery: intertwined carriageways, glittering trails of shattered glass, canted planes of oil-stained concrete, glass balconies cantilevered from steely high-rises, perversely sleek geometries of curve and camber. The stories and rumours reinforce the visuals. Anonymous sex under off-ramps, middle-class murders in office towers, commercial travellers kept permanently sleep-deprived by the incessant clatter of tyres across expansion gaps, urban sub-cultures recolonising the subterranean spaces (freestyle runners, aerosol bandits).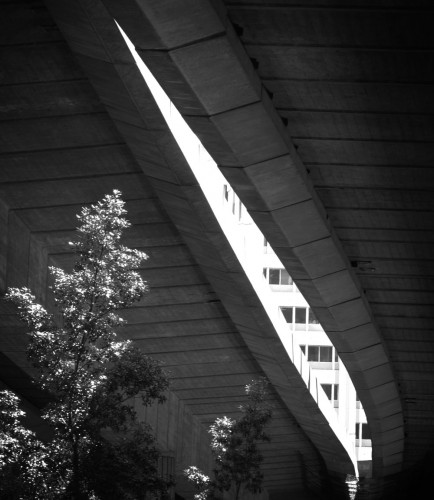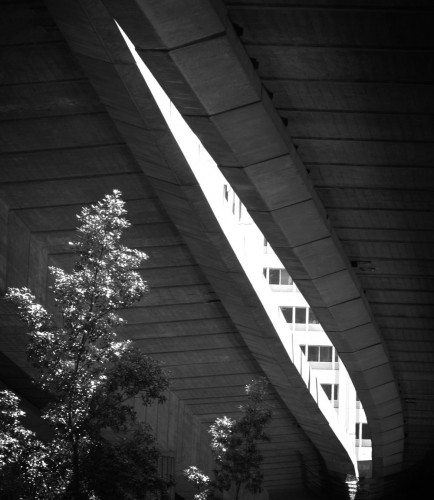 A man rides a gleaming, musclebound  motorbike in slow circles, weaving between concrete pillars and shipping containers. He wears an open leather jacket but no helmet: he could be one of Ballard's "hoodlum scientists", though his blank face betrays no scars. Twin rows of half-forgotten pillars stalk the tarmac, awaiting the second coming of the motorway with the ageless stoicism of druidic megaliths. Their hammerhead forms also remind me of McCahon's use of the tau cross, a pre-Christian symbol of sacrifice and resurrection. If NZTA has its way with a duplicate tunnel, these Modernist relics will come back to life as the dreams of the original planners reach long-delayed fruition.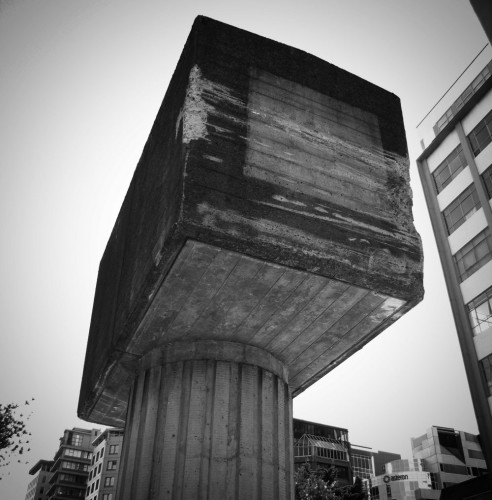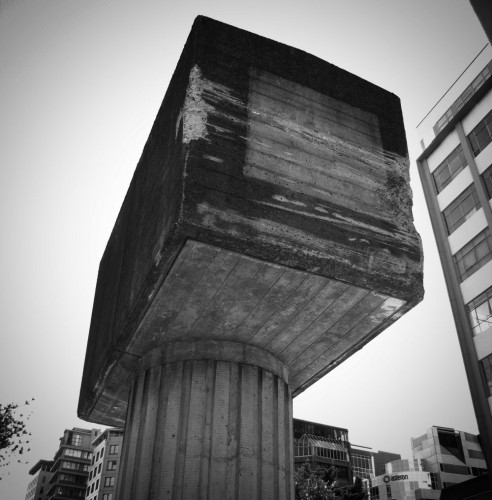 There's something almost exhilarating about ugliness when it's this complete, this uncompromising, this all-encompassing. The cable car (or funicular, to be precise) slices through at an inelegant angle, caged in chain-link and razor wire; carpark decks are stacked and staggered, linked by jumbled afterthoughts of pedestrian steps and signage; inadequate fluorescence stutters and flickers in the musty dark. If there's Ballardian iconography here, it's condensed in a very Wellington way, pressed between the foothills and the Terrace towers rather than spread out among the reservoirs, runways and big skies of Staines or Northolt. If Maitland crashed through the Armco here, he'd be more likely to land on a startled smoker in an office block loading bay than become marooned on a concrete island.
But these remnant spaces do have their own inhabitants. As I climb the bank on the Clifton Tce side, there are the usual signs of last-resort home-making: mattresses among the scrawny undergrowth; cardboard sheets laid neatly across benches; bottles, rags and carcinogenic middens of cigarette butts stashed beneath the steel ribs of the overpass. Conspiracy theorists are also out in force among the tagging: "9/11 WAS A LIE. FEAR = CONTROL"; "FLUORIDE: THE NEW ASBESTOS". Traffic slams by just metres away.
This is so much a world-in-itself that it seems futile to conjure up the pre-motorway past. Vestigial lanes (Shell, Dalmuir, Rosina Fell) have their stories, and there are tales of eel-catching in remnants of Kumutoto Stream until surprisingly recently, but there's nothing to tie them to the experience of this place. It's an asphalt canyon, a cathedral of the motor age, and the weatherboard days of the residential Terrace feel even less relevant than my diesel-fuelled imaginings. There is one geographical continuity worth noting: the Clifton Tce carpark ends with a sharp right turn towards Woodward St, just the way that the Kumutoto Stream once flowed.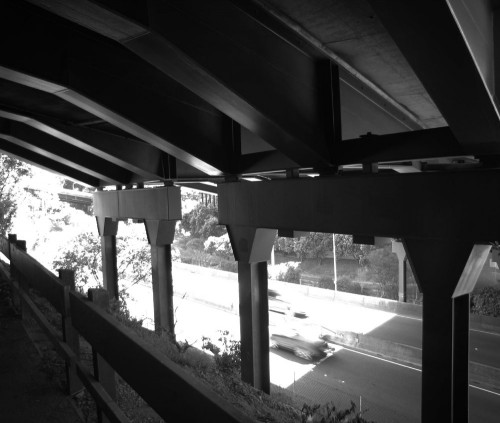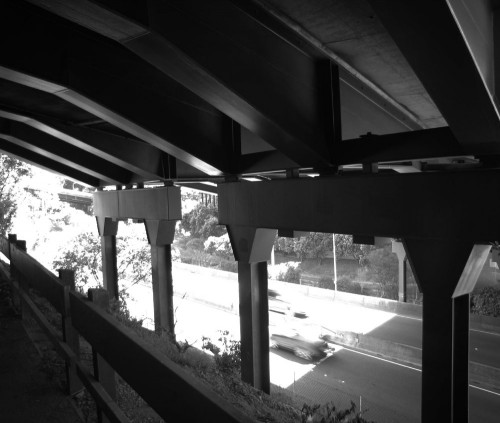 If I were heading off in that direction, there would be rich veins of history to tap: Kumutoto kainga, the Wellington Club and its mania for demolition, the death of Edward Gibbon Wakefield (plaques remember him not as a kidnapper, jailbird and swindler, but with terse encomia and lists of achievements, including "Man of Vision" and "M.P. for Hutt"). But the motorway flows on, and the next stretch teems with visible connections to the past, despite the best efforts of the highwaymen.