Letting Space on the Terrace
From the public art programme which brought you Kim Paton's Free Store and Tao Wells' The Beneficiary's Office (which both caused significant national media interest and debate) I'd like to present to you: Colin Hodson's The Market Testament.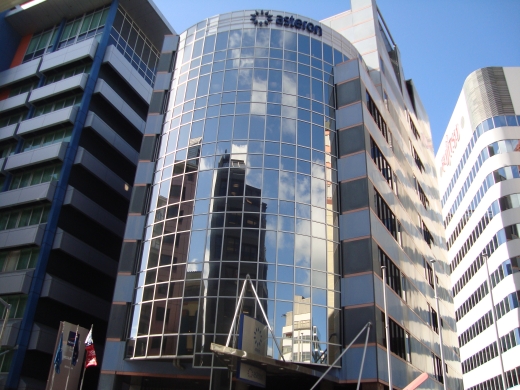 An entire office building on Wellington City's The Terrace is to be turned into a work of art: the vacant floors of an office building will be occupied with its lighting controlled via a live data feed from the stock market. The work will operate at night for two weeks from Monday 11 April.
Hodson says his artwork highlights the degree to which our lives are determined by a complex of economic systems that, to a large part, are running beyond our comprehension and control:
Many of us look from the outside at these buildings — monuments to the banking and finance industries — and feel excluded from the capitalist project that we were told heralded growth. Within their architecture we still see the echo of that optimism, carrying on without us, regardless. There may be no physical agencies on the unoccupied floors of these buildings, but in the flickering sequence of lights that mark occupation and utilities there's a code still generating itself.
The work also includes a live webcam feed — here's the URL.
Wellington CBD office vacancy rates are predicted to keep rising and reach 15% by 2013.  Says curator Mark Amery:
We need to engage in creative solutions for the future mixed use of these buildings to ensure a vibrant future for the city. Colin Hodson's work could act as a conversation starter.
The opening event (Facebook) will take place at 6.30 pm on the top floor of the almost-vacant office tower — which Colin has lit from the inside out — at 139 The Terrace, Wellington.  Owing to the time of year and so forth it may be dark in patches, so if possible bring a torch.
—
The brain-child of Mark Amery and Sophie Jerram, Letting Space brings artists and property owners together to explore creative ideas for urban renewal and growth. It commissions temporary art works from leading New Zealand contemporary artists for vacant commercial CBD spaces. The programme was responsible for public art projects in Wellington in 2010 by Wells and Paton (above), as well as Bronwyn Holloway-Smith and Eve Armstrong. Letting Space public art projects are partnerships between artists and curators and property developers and managers; the property partner for The Market Testament project is Prime Property.