Two marches you might want to join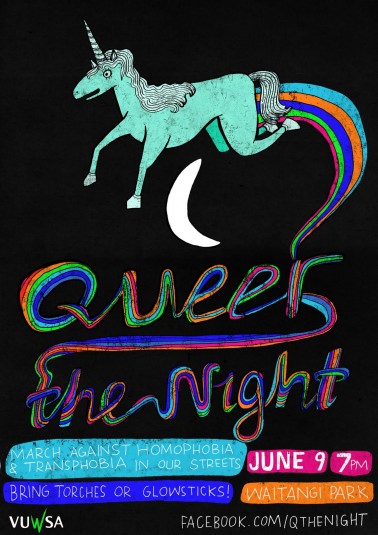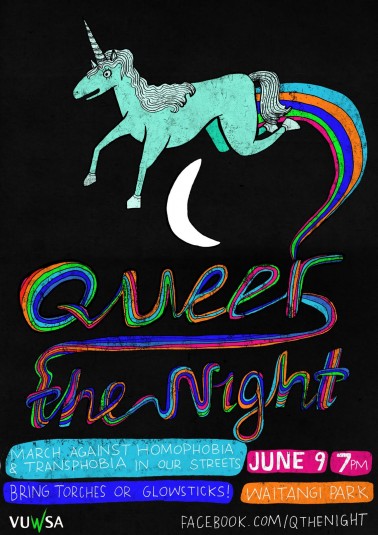 Wellingtonians have two great opportunities in the next couple of weeks to join important causes and demonstrate that you are decent human beings.
On Thursday June 9,  a march will be held through Wellington city to help stop homophobia and transphobia on our streets.
Then on Saturday June 25, a Slutwalk is happening.
Queer the Night was inspired by the Reclaim the Night philosophy and initiated in response to a couple of recent incidents where members of the queer community were assaulted in central Wellington. To many, these were a shocking reminder that although we've come far, there are still dangers to those who are or… are perceived as being outside heterosexual norms. To others, dealing with homophobia or transphobia on the streets is an everyday experience. Either way, it is unacceptable that any of us are made to fear physical or verbal abuse in our city.

At the same time, we want to celebrate the gains made in this area, and offer our solidarity to those fighting homophobia and transphobia in places it may be even more potent; in their schools, their homes, their workplaces and throughout the world.

We will be marching on Thursday 9th June, meeting at 7pm at Waitangi Park (formerly Chaffers), traveling to Cuba St where there will be guest speakers and an open mic. Please bring glow sticks, torches, etc to light up our city. All supporters welcome!

If you, or your organisation would like to get involved on a practical level, please let us know by emailing queerthenight@gmail.com.
Meanwhile, the Slutwalk is on a mission to spread the word that those those who experience sexual assault are not the ones at fault, without exception.
Moving against intolerance and toward education. Founded on the hurtful occasion where a Police Services representative in Toronto, Canada announced that women could reduce their risk of sexual assault by not dressing like "sluts", this is a march to make a unified statement about sexual assault and victims' rights and to demand respect for all. Whether a fellow slut or simply an ally, you don't have to wear your sexual proclivities on your sleeve, we just ask that you come. Any gender-identification, any age. Singles, couples, parents, sisters, brothers, children, friends. Come walk or roll or strut or holler or stomp with us. – Facebook event.
And in case you're wondering:
There is no Slutwalk dress code. Come as you are and come as who you are. Just come. And bring your kids. And if not, support people who are. Or come up with a better idea. Or do something. Not just boycott and criticise it because you don't think it's perfect way to prevent rape and sexual assault. Because when you don't know what to do, do anything. Cause you're not allowed to rape sluts either. – Catherine Denevy