Batucada Sound Machine in town to shake it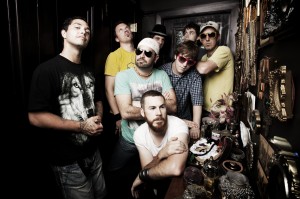 Cuba Street Carnival favourites Batucada Sound Machine have returned to New Zealand with a new album of tried and true road-tested tunes entitled Don't Keep Silent, due for release January 23rd, 2012.
In addition, BSM have planned their first ever comprehensive tour of New Zealand to celebrate the album release including a spot at WOMAD 2012.
From the press release:
"This 10 piece onslaught of pacific-soul, latin, afro-beat and hip-hop have an unparalleled reputation for their polished, high-energy performance, which has seen them conquer audiences at a host of renowned festivals; including the main stage at Sziget Festival (Hungary), Horizonte Festival and Kulturarena (Germany), Larmer Tree Festival (UK) and the City of London Festival to name a few."
They're playing at San Francisco Bathhouse this Friday (the 27th of January), and to celebrate, we've got a copy of Don't Keep Silent to give away. To win, all you have to do is leave us a comment below with your favourite fact about bats. We'll draw a winner on Sunday. Woo!