Wellington on a Plate so far
Wellington on a Plate opened on Friday. How's it been for you so far? We've been trying to share people's microreviews on Twitter, and of course @wellyonaplate will be even more informative,  but I thought I'd do some proper writeups for you about what I've been eating. So, in chronological order:
Dine menu at The Grill
Nadia Lim's Masterclass
The Chocolate Festival…
1. Dine menu at The Grill at the Amora
I started a new job last week and there's a lot to learn, so I decided to take a little time out and treat myself to a quiet lunch alone on Friday. I consulted the Google Doc I'd set up & shared with my friends featuring all the places I want to eat at, and decided The Grill would be a good choice, despite the crappy service I've had there, because it was likely to be quiet, and a good place to read a trashy magazine and clear my head.
What I had forgotten about was that it's a place which tries to do formal service. That means calling me "Ma'am" (I still get asked for ID in supermarkets, I shouldn't be a ma'am!), and while they forgot to ask to take my coat when I sat down, they did come over halfway through my lunch to rearrange it for me because apparently it was dragging on the ground. I also got asked six times by three different staff "sorry, how is everything?". Not a quiet and relaxing lunch after all!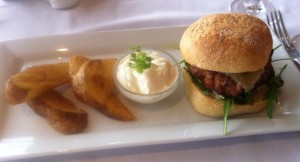 But the food, let's talk about that. The chestnut soup was okay, the crispy sage leaves delicious but the soup itself the colour of bad gravy, with a skin forming on it. The Señor De Cerdo Picantes burger, meanwhile, "Chorizo patty with manchego cheese, quince aioli and rocket on a Pandoro turkish bun, with Merguez-spiced potato wedges", was fantastic, a thick juicy patty, amazing aioli with hints of honey in it, and good bread. The wedges tasted like they'd been sprinkled with standard cajun seasoning from a jar, but they were unnecessary since I had the soup anyway. It was a great burger, I wish I'd got it to go though.
Me and Laura Hungry & Frozen were invited along to Nadia Lim's Masterclass and the drinks and salmon canapes afterwards by the lovely PR people for Regal King Salmon. I hadn't seen her on the telly, but I loved her presenting style, as she talked about making sure to turn off your mic when you go for a wee, and about how she almost burned down a catering client's six million dollar house. She also did some very nice and simple things with the sponsor's product that we got to eat afterwards (well, the versions made by the catering staff anyway). It was just a shame that Rex Morgan was sitting at the back talking to a friend the whole way through – very distracting and super rude. That's Boulcott Street Bistro off my list of places to visit then.
Nadia was absolutely lovely though and gave some good advice to Laura, who's working on her first cookbook, and dealing well with the woman with insistent questions about fish farming (there's always one, isn't there?). Meanwhile, I just enjoyed the fact that I live in a city where I can bowl on up to the mayor for a hug, and insist she start watching Parks & Recreation.
3. The Chocolate Festival
I haven't been to the Chocolate Festival yet, as it's taking place over the 24th-26th, but I wanted to draw your attention to it to make sure you book yourself in. If you're one of the many people I saw on Twitter talked about how Esme was robbed on NZ's Hottest Home Baker, you could even go have a cup of tea with her. Or just go and enjoy all the goodness you can handle.
The New Zealand Chocolate Festival brings together a vast array of chocolate and culinary experiences which will make you feel gooey all over. The finest chocolatiers and chocolate makers of New Zealand create exquisite masterpieces and delightful treats for you to enjoy. Discover the origins of chocolate while absorbing the aroma of baked sweetness. Stimulate all your senses and perhaps even get your hands a little dirty.