I'm running out of food-related puns. I know right, what is this I don't even. That's how much I've been eating and writing and writing about eating lately. So let's just get right into it, shall we? Just one review for you tonight.
I'm no reality TV show food judge being all "well a bouillabaisse  is that, not this" but I'm pretty sure that Philadelphia is famous for its cheese STEAKS, not its burgers. So I don't understand the name, but I do understand a tasty burger when I eat one, and this was a tasty burger.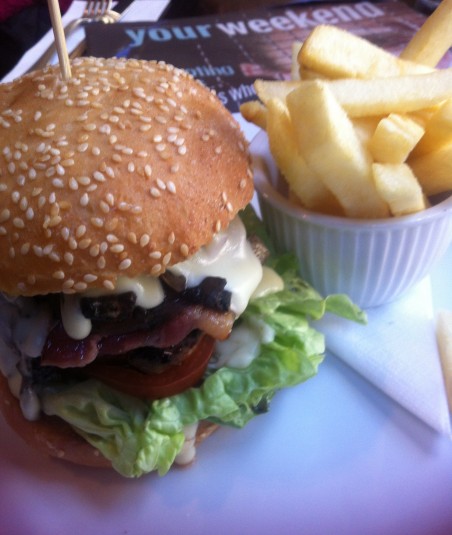 Hurray for crunchy iceberg lettuce after so many places serve you slimy mesclun. The mushrooms and the bacon gave lovely flavour, and the patty was well seasoned and the right kind of juicy. It would have been nice for there to have been more of the cheese sauce, though that could have made the whole thing too rich. What let the burger down though was the bun, which I'm pretty sure was a standard supermarket number instead of the promised Pandoro, and also the pallid chips which were sadly undercooked and blah. Still, the burger was good enough that I plan on going back tomorrow to try their Dine menu. Don't just take my word about this burger though! Word on the Street loved it, while The Great Burger Challenge also found it lacking in sauce and were disappointed in the chips.