Pablos Art Auction 2012
Pablos Art Auction — that gala highlight of the local art scene — is on this Wednesday night. This year it's bigger and better than ever and in an all-new venue: Massey University's Great Hall.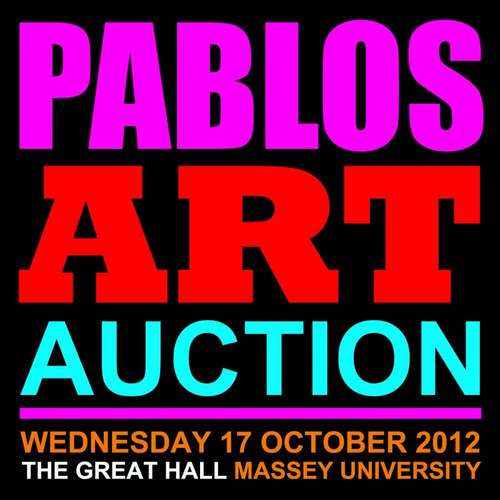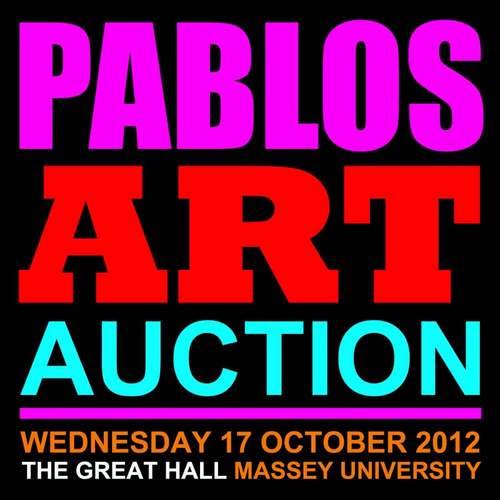 If you're a seasoned collector and art-auction attendee I expect you already have your ticket and the date marked in your diary. If you're not but you've a hankering for dipping your toes into the scene, there's no better way than the Pablos Art Auction where you'll be able to view and bid on and purchase a vibrant cross section of one hundred artworks from some of New Zealand's leading art makers, including Dick Frizzell,  Michel Tuffery,  Nigel Brown,  Wayne Youle,  Tom Sladden,  Sam Broad,  Ewan McDougall,  Matt Gauldie,  Andrew Blythe,  Rob Cherry,  Angus Walker,  Chris Grosz,  Jane Blackmore,  Jon Drypnz,  Miss Mica Still,  Scott Kennedy, Ruth Korver, Michele Irving,  Ben Buchanan,  Stephen Templer,  Rose-Marie Salmon,  Greg Broadmore,  John Lake,  Gavin Chilcott,  Debbie Pointon,  Anne Marie Jean,  Antoinette Ratcliffe,  Di Conway,  Margaret Elliot, Jane Hyder, Nestor Opetaia — not to mention the emerging talent from Pablos artists and further afield.

Pablos Art Studios is a creative space in Wellington which provides an art studio and gallery for people who have experienced mental illness. It builds bridges between its artists and the wider community by using creativity as a vehicle of expression, engagement and identity. The auction is a major fundraising event for Pablos. "This is a fabulous opportunity to start or build your art collection while supporting our artists, tutors, studio and gallery," says Pablos director Gaelen Macdonald. "At our auction you can see and buy some unique and wonderful art, while supporting the activities of Pablos and the recovery of individuals who have experienced mental illness."
Pablos Art Auction 2012
Wednesday 17 October, Massey University's Great Hall
Viewing from 5.00pm, auction begins 6.30pm
$20 presale tickets are available now. Entry is $25 at the door.
Includes live music and refreshments.
Ticket enquiries from ROAR! gallery on the corner of Vivian and Victoria Streets
p (04) 382-8885
e pablos@pablosart.org.nz
w pablosart.org.nz
"It will be so exciting to see our artists' work up on the wall next to works by some of New Zealand's leading artists," says Macdonald. "Tickets sell out every year, so get in quick!" To that I can ruefully attest and so my advice is to not delay.
Pablos has also granted us a special sneak preview of some of the work in the auction. Ordinarily the art is kept under wraps until the auction but if you click on one of the thumbnails to load the gallery…