Feeling chipper
On top of all the recent openings, there are several more bars, restaurants, cafés clubs and other new places to look forward to in the next few months.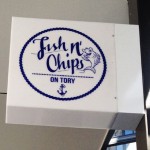 One surprising and welcome trend is the re-emergence of central city fish and chip shops. An outfit called Fish n' Chips on Tory looks (at the time of writing) to be just about to open, and the promised delivery service will help break the stranglehold that pizza has on the shut-in market. The Mt Vic Chippery (apologies for the Facebook link) on Majoribanks St looks just a bit further away from opening, but their connection with the City Market suggests some sort of gourmet emphasis. That doesn't seem to be the case at the SoHo café on Taranaki St, where the recently added menu of such suburban kiwiana chippie staples as hotdogs, pineapple rings and crabsticks sits oddly above the bottles of Jim Beam and Frangelico on the bar shelves.
In addition to the cluster of cheapies in the new complex under the frilly verandah, Tory St is seeing quite a few movements. This Friday sees the formal opening of Puppies, as multi-channel music-scene legend Blink kicks some life back into the comfortably dingy space that was Happy. It'll be more of an occasional music venue than a bar as such, but the crushworthy line-up of indie, experimental and electro outfits looks set to start a neon traffic jam forming between Tory and Cuba streets. Some have already suggested that rehearsals here were the real cause of the low hum heard over Mt Victoria.
Meanwhile, you may have noticed that Red Ginger has moved out of the space below Hawthorn Lounge. There's work going on inside, and after a radical refit and extension it will be the new home of Pan de Muerto, which closed down its Sandwiches operation last weekend. According to the event information for their closing gig, the old Pan de Muerto space will become something called "PICKLE Eating House & Bar". I've no idea how literally they'll take their theme: anyone for picklebacks?
Nearby, the large half-sunken tenancy under Our Tel's Century City Hotel was always intended to be a restaurant, but has languished as a vacant space (and occasional Apprentice set) for what seems like years. It's now been leased, and rumour has it that a restaurant or bar is finally on the cards. Given the space's heritage and elliptical geometries, I wonder whether it's time for an Ecstasy Plus revival (oh sweet Beelzebub, no!).
On the next block seawards, the narrow space that was once various incarnations of Schoc/Ciocco looks it will soon be reopening as a bar and café called Poquito. I don't know many more details, but the name strongly suggests some sort of Latin American tapas joint.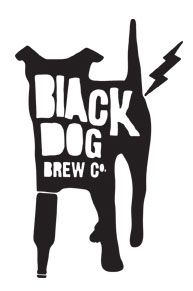 Down in the Courtenay quarter, it's refreshing to see that the former Temperance/Estadio space (or at least the Blair St section) is about to come back to life. Recently it's been used just for brewing by the Black Dog Brewery Co, but they're about to re-open as a pub and off-licence, complete with leaners, tasting tables and "growler filling station" (down, boy!). The brewery is owned by DB, as was the ill-fated Temperance, but I have it on good beer-geek authority that the on-site nano-brewery is in good hands. Now, if we can only get someone to make the rest of the space work: Wellington's missing a performance space that suits the more vertical arts.
The big news near upper Cuba St is the imminent opening of central Wellington's first Lighthouse cinema. This will mean that snobbish cinephiles (not that we know anyone like that) won't have to brave the bridge & tunnel crowds down on Courtenay to get their celluloid fix. I use the word "celluloid" quite wrongly, since it will be an all-digital experience behind its John Mills-designed brick and glass façade. The three micro-theatres and attendant café will bring yet more life to a gradually brightening corner of dark old Wigan St.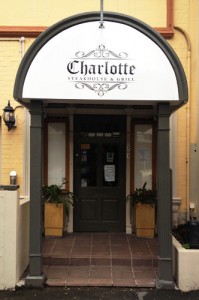 If ever a site was cursed, it must be 201 Cuba St. While it became a grand institution as Orsini's (ask a boomer to tell you about the police raids), since then it's been through more changes than Doctor Who, having a go at being everything from a pizza joint to a gay bar to several attempts at Indian or Malaysian restaurants, often with good food but comedic service. The last of those (Kinara) closed not long ago, and it'll reopen soon in quite a different guise as Charlotte Steakhouse & Grill. I don't know much more about it, but I suspect it will do what it says on the tin. Let's just hope it does it well, and sticks around.
Speaking of gay bars, there's been a bit of a gap in the market since Club Ivy closed down and was replaced by a very different male demographic at Calendar Girls. But Ivy is set to reopen, this time in a basement under the James Smith building in Lower Cuba St. I don't know of an opening date yet, but in the meantime you can amuse yourself by reading the comments under that article.