Christmas Shopping – Part 1
For many Christmas is about the newest shiniest toys and things that break within 10 minutes of the box being opened, a season of malls, bad music and chain stores. But those people are not us, oh no, for we know that Wellington is an abundance of boutique shops and delightful markets.
So with the idea of helping you all avoid the things you hate about Christmas, and do good things like shop local and shop handmade I'll be doing a wee series on all the delightful ways to get your gift on this Christmas. If you think it's too soon to be thinking Christmas then think again, just check the  NZ Post Christmas mailing guidelines and you'll see what I mean.
I thought I'd start with what's kicking off this weekend, in Handmade. Next I'll attempt  a round-up of what's on in local shops and what you can expect from the season in Markets.
You already know about Aimée Mcleod's Studio Weekend which is happening this Saturday and Sunday.
Also on this weekend is the Christmas Knack Market.
Saturday November 25th from 9.30am till1.30pm
Berhampore School, Britomart Street (off Adelaide Road), Berhampore, Wellington, New Zealand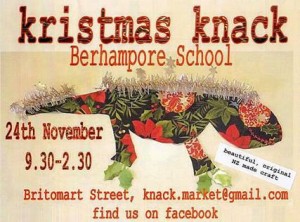 Knack is very much the market where you find the up and coming crafters and artists of Wellington. Plus it's one of those markets where you get to do good by shopping. Knack started in July 2007 as a school fundraiser, and has a lovely community feel to it. It's a great place to find well-made, interesting gifts and with parking, eftpos and great coffee on site it's a seasonal delight.