Middle of Middle Earth Market and Movies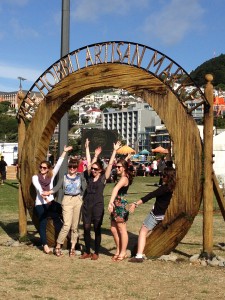 There's a hobbit-abrewing in this wee city of ours. Today we've got another guest post from HeatherC from Foodie Gems of Wellington all about the markets going on. Get in quick! 
If you're a LOTR fan, you could do worse than get yourself down to Waitangi Park for 6pm each of the next three nights (Sunday 25th Monday 26th, Tuesday 27th November).  The trilogy is showing on a big screen there, one per night, as part of the build up to red-carpet Wednesday.
And for all those essential hobbit items for your next party (or all your poor non-Wellington friends who are missing out on all the fun this week), the Hobbit Artisan Market is operating from noon with a number of interesting stalls.  Including Weta with official Hobbit memorabilia, Stansborough, the official weavers for the Hobbit (some cool cloaks for sale on their website), Wheeler Sculpting and Knives, knife makers for the movie, and many others offering pottery mugs, leather goods etc.
There's also a small but good range of food outlets to spread yourself around over the three nights, including The Dumpling House (Middle Earth mushroom dumplings), Frtiz's Weiners, Food for the People (whitebait fritters and free range pork burgers for starters), Six Barrel Soda, Crepes a Go-Go (check out the young hobbitish lad with the ears making the crepes), Carello del Gelato (Hidden Treasure gelato), and the shiny silver Mojo caravan to round it off.
And the Met Service are giving us pretty good news for the next few days too.  What more could one ask for….?