New Year's High Tea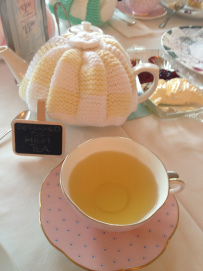 Another guest post from Heather at Foodie Gems of Wellie, huzzah!
I saw the James Cook advertising January high tea deals recently which reminded me of the myriad of high tea options in the city. And thinking what a good time of year January is for a leisurely afternoon tea with good friends to contemplate the year ahead (if lucky enough to still be off work!).
The options include the James Cook (polished), Martha's Pantry (charming), Wellesley's McGinnity's (old-world glam), Finc (funky), Soi (PDF) (not yet tried, but I imagine a little sophisticated, with lovely harbour views), Hippopotamus (arty class), Sweetpea at Petone (Pictured – cute, with sensational cupcakes), and Logan Brown (a piece of Wellington history).
Note that some locations charge if all of your party don't turn up (so be sure to confirm your participant numbers and bookings 24 hours beforehand), and some can be booked at brunch or lunch time if you prefer not to have to fit all this delicious food and drink in on top of lunch or brunch.
Sweetpea even do a bloke's option with a 'generous stack of meaty treats with a couple of sangers, a cheeky scone and your choice of manly cupcake'!
Since many include bubbles or cocktail options, be sure to arrange a ride home and kick back and celebrate the start of another exciting year.
Bon appétit.
Editor's note: it would be remiss of us not to add in our own opinions here! We found the service at the James Cook to be eeeeeeeeeeexcruuuuuuuuuuuutiatingly slow because they bring around a tea trolley and do that whole thing with the urns and blah blah, but the scones were great. We love Martha's though the tight space and the daintiness of everything means it's not all that relaxing, the space is much more breathable at Sweet Pea, and while we haven't had high tea at any of the other places,  we have feelings about Finc.