Entrancing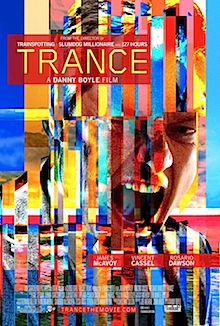 Danny Boyle is a British film director with a quite extraordinary track record including Trainspotting, The Beach, 28 Days Later and multi-Academy Award winner Slumdog Millionaire. His latest film, Trance (reuniting him with Trainspotting and Shallow Grave writer John Hodge) opens on Thursday and the Light House Cuba have a special preview screening of it tomorrow night (Tuesday) at 6pm.
The screening will be introduced by my good self (self-promoting link here) with a brief audio-visual survey of Mr. Boyle's career, hopefully illuminating some of the connections among the eclectic career choices that he has made since that first feature in 1994.
Tickets for the screening include a free drink (wine or OJ) and a very necessary debrief in the bar afterwards. Click here to reserve your seat. Read more about the mind-messing Trance here:
Simon (James McAvoy), a fine art auctioneer, teams up with a criminal gang to steal a Goya painting worth millions of dollars, but after suffering a blow to the head during the heist he awakens to discover he has no memory of where he hid the painting. When physical threats and torture fail to produce answers, the gang's leader Frank (Vincent Cassel) hires hypnotherapist Elizabeth Lamb (Rosario Dawson) to delve into the darkest recesses of Simon's psyche. As Elizabeth begins to unravel Simon's broken subconscious, the lines between truth, suggestion, and deceit begin to blur.
Meanwhile, with the impending closure of the Capital Times and the loss of my long-standing soapbox, I have started a mailing list so that readers can still get their weekly fix of my comprehensive survey of each week's cinema releases. Click here to sign up.