Phantom of the Opera – a Magical Musical
There's nothing like a show, and Phantom of the Opera is certainly one of those. It's the second longest running musical in the world so its a bit of a big deal for Wellington Musical Theatre to land a season here at the St James.
I've been lucky enough to see the production a few times before (spot the musical theatre nerd) which means I went in with a few preconceived notions and expectations . So for a bit of balance I brought along a friend who'd never been to a musical before, had no idea of the story and for a bonus twist , english is her second language – (sneak peek – we walked away happy).
Lets begin with where this show is destined to fail or succeed – with the Phantom himself. We were both blown away by how Chris Crowe brought iconic tragic character to life. From the moment you hear his voice over the speakers you can feel the intensity and when he steps on stage he makes it work with every inch of his voice and body. With this role a performer could easily coast on belting out the numbers, but songs like 'Music of the Night' come to life when restraint is applied and Chris Crowe delivered a stunning and assured performance on all fronts.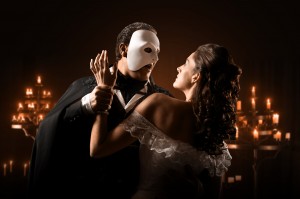 The staging was really innovative it was opulent where needed and we were both impressed. The costumes had all the wow factor you expect from this kind of show. This is a dream chorus who really deliver, not a note out of tune and in the big numbers like 'Masquerade'  everything (staging, sound, lighting , costumes, performers)  all came together perfectly and I was transformed. I still have that song rolling around in my head, and I've not found anything on you tube to match the joy and excitement I had being there.
One problematic thing was the sound, not the voices but how they were transmitted. During songs like "Notes/Twisted Every Way" when you've got various singers in tandem the individual performances were impossible to distinguish, and were overpowered by the sound from the orchestra. It felt like their mics were turned down & the orchestra turned up – which is the opposite of how I like my musicals. For me its all about the stage performers – sorry orchestra I know you put in just as much work –  I want to hear every single word from the stage and at most times we could so I'd put it down to a glitch on the night.
But we were gripped and She was on the edge of her seat and at the end so was I and we walked away happy. If the standing ovation from the audience was anything to go by so did everyone else. If you can, do go see Phantom its only on for 3 weeks and The St James is the perfect venue for a big kick ass show and Phantom of The Opera is that. There is nothing quite live theatre, and live musical theatre, done well like this production was,  is something you don't want to miss, it's Grand, it's joyful and it's a fun night out.