LCB, TK and Sunday Stroopwafels
LCB.  Le Cordon Bleu.  Learned culinary bestowers. Legends of creativity and bonhomie (yeah yeah enough already…).
The LCB WOAP Haute Cuisine du Terroir on Friday night was pretty impressive (not least for being nearly five hours of imbibing instead of the planned three!).  Seven courses of French food matched with each an old world Burgundy and a new world Martinborough tipple (after the first two courses), and winemakers revolving around the tables; this was always going to be something interesting.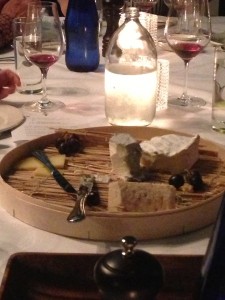 The food included delights such as warm goats cheese gougeres, ham hock terrine, confit pave of salmon larded with smoked eel, lamb sweetbreads with a fricassee of wild mushrooms, roast breast of quail on duck ballontine, and more.
The wines provided some interesting comparisons, with a French Bourgogne Blanc Clos du Chateau chardonnay beating the local one for me, a couple of pinot noirs that were hard to distinguish between terroirs, and a delightful Palliser Estate Methode Traditionelle with dessert beating the French sticky (and that's saying something from a sweet-toothed gal like myself – but just a better compliment overall to the bavarois and macaron, whod've thought).
And you can tell from the picture that the shared French cheeses went down a treat – including a beautiful ripe and luscious camembert, a soft and sumptuous chevre, and a very palatable blue (I might nearly be converted).  Served gooey and at room temperature, with not a whiff out of place, just how they're experienced best.
If they hold this event again next year, definitely one to snaffle a ticket to.
Alas the burger at TK (Ti Kouka) was sold out by 1pm Saturday so the WOAP dine menu it was instead.  And that didn't disappoint either.  For this kid, the Wairarapa Eco Farm Jerusalem artichoke soup with pulled Longbush pork and Zany Zeus smoked yoghurt  (a cunning plan to still get one's mitts on some of that georgous pork), and Pear and "Willis Street" sticky honey pudding with Pinnacle Grove walnut crunch.   And then a cup of tea and a lie down (at home, not at TK!).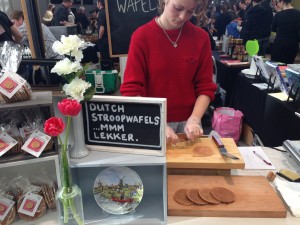 And last (but absolutely not least), a new stall at the City Market this Sunday – Eloise van Wynbergen of Montfoort Wafel Co with her great aunt's stroopwafel recipe.  Now I've had stroopwafels cold, but warm fresh from the machine with warm gooey sticky caramel gluing the halves together, I'm still salivating (and I may never eat a cold one again – although Eloise had a very tempting array of packaged sizes to take away).
And delightly, she gave me a loyalty card with my first few stamps now ticked off (promise, I didn't eat ALL of the ones stamped myself), so I'm well on the way to a free one some Sunday soon.
Now what better way to round out the weekend.