Tequila, sangria and ugali
I haven't really spent the whole week at bars, but Tequila Joe's and Avida were both on the agenda this week, as was the new Afrika on Cambridge Terrace (formerly the Moroccan Casablanca).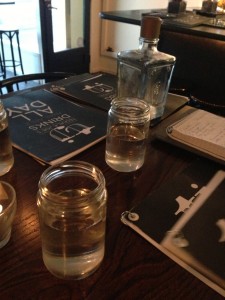 Tequila Joe's is in the former Shinobi Sushi premises on Vivian Street near the corner of Tory; the result of a Detroit lad with aspirations to own his own bar.  The drinks all come in jars, including a range of $10 'famed' tequilas one could work one's way through if of a mind.  The food is from Tequila Joe's childhood (southern/Hispanic), with chilli featuring throughout.
The Yucatan burrito (pulled pork, lime rice, cowboy beans) and kickin buffalo bleu burger with super secret fries (the secret's safe with us cos we didn't work it out…) were simple but pleasant, and the burrito was tangy as promised.  If you wish for it drowned in cheese and sauce, you can order a 'swamping sauce' for an additional $5, so all bases covered.
Definitely an interesting place for a cheap and cheerful drink and graze if up that end of town.
Avida was polished as always, with it hard to go past their sangria and Spanish catalan breads.  Spinach, mushroom, caramelized onion and gorgonzola; Serrano ham, rocket, manchego, walnuts and olive oil; shrimp whipped feta, chilli, confit garlic, oregano; and lamb sausage, skordalia, picked fennel and mint.  Enough said.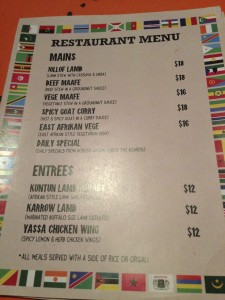 And onto Afrika to check out the folks from the Cuba night market now established in their own premises.  Laid back and a bit funky, the aim is African village with simple down-home fare simmered through the day (mostly curries and stews) and served at economical prices.  We enjoyed our spicy goat curry and joll (stew) of lamb, and noted that everything is halal compliant and gluten-free if that's important.
The point of difference for Afrika is the use of the restaurant as a music and entertainment venue through the week (drumming or Afrikan DJ from 9.30pm) and various other themes from time to time – Somali Saturday this weekend just gone (food, drink and entertainment), and Ethopian New year celebrations a couple of weeks ago.  So the food is just a part of the experience.
I discovered ugali, which I'd definitely choose again with a stew or curry, and noted African beers and wines on the drinks list. With a delightful Tanzanian waitress it definitely felt the real deal, and provides another interesting addition to the wonderful Wellington landscape.